BaTboT
The Fluid Mechanics Laboratory and the Swartz Lab at Brown University are in development of a biological inspired bat robot platform that aims to reproduce the amazing maneuverability of these flying mammals. Bats exhibit extraordinary flight capabilities that arise by virtue of a variety of unique mechanical features. These flying mammals have developed powerful muscles that provide the folding and extension of their wing-membrane during flight (morphing). The maneuverability is achieved by reproducing the flapping and morphing capabilities of their wing-skeleton structure. This structure is composed by several joints and a membrane that generates the required lift forces to fly. Each wing has 4 degrees of freedom: the shoulder has two, the elbow joint is actuated by Migamotors SMA-muscles, and the wrist is an under-actuated joint that moves as a function of the elbow. The robot morphology is alike in proportion compared to the biological counterpart (half the size): total wingspan: 50cm, humerus length: 5.5cm, and radius: 7cm. The total weight of the skeleton is 34g (including both wings). The morphing actuation mechanism attached to the humerus bone is based on smart muscles that provide elbow rotation.
More info can be found on their research site here.
Comments (0)
This post does not have any comments. Be the first to leave a comment below.
---
Post A Comment
You must be logged in before you can post a comment. Login now.
Featured Product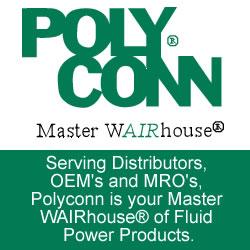 We can produce pneumatic hose and other pneumatic products to match your exact specifications. Our proficient engineering and quality management, coupled with outstanding customer service means Polyconn delivers high quality pneumatic components at competitive prices. Place your order or contact Polyconn for more information on our pneumatic hoses, pneumatic manifolds, Duratec® Pipe or any of our other top quality pneumatic products and components.