Adept's New Material Automation Robot
The Adept Lynx is an Autonomous Indoor Vehicle (AIV) available to developers for custom applications and payloads. The Lynx includes Adept's proprietary self-navigation software ideal for use in crowded environments, tight hallways, and applications where a small automated vehicle is advantageous. Adept OEM partners and payload developers enjoy access to a reliable drive system, an on-board power supply, automated self-charging, and I/O for integrating payload hardware onto the mobile platform. The Adept Lynx is capable of transporting up to 60kg with a runtime of up to 19 hours a day.
Simplifies payload integration with a small mobile platform
Self-navigation software safely avoids people and obstacles
Reliable drive system optimized for self-navigation
Structural support of payloads up to 60kg on level surfaces
Navigates through the use of a digital map
Easy to deploy, no facilities modifications required
Manages power and self charging operations
Comments (0)
This post does not have any comments. Be the first to leave a comment below.
---
Post A Comment
You must be logged in before you can post a comment. Login now.
Featured Product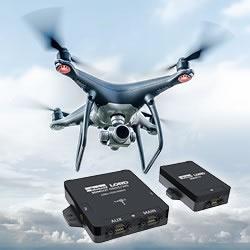 The C-series high performing inertial sensor package provides an OEM form-factor that is optimized for size and weight in Off Highway, Unmanned Ground Vehicles/Mobile Robots and Unmanned Aerial Systems. It's compact and low-profile anodized aluminum housing can be connected directly to a printed circuit board using a UART header or a Samtec FFSD ribbon cable and 2-56 fasteners.