NASA Kicks Off 2013 First Robotics Season With Live Broadcast Jan. 5
NASA Television will broadcast the annual FIRST (For Inspiration and Recognition of Science and Technology) Robotics Kickoff event on Saturday, Jan. 5, starting at 10:30 a.m. EST from Southern New Hampshire University in Manchester. The event also will be streamed live on NASA's website.
As in past years, NASA plays a significant role by providing public access to robotics programs to encourage young people to investigate careers in the sciences and engineering. Through the NASA Robotics Alliance Project, the agency provides grants for almost 250 teams and sponsors four regional student competitions, including a FIRST regional competition in Washington that will be held March 28-30.
Each year, FIRST presents a new robotics competition scenario where each team receives an identical kit of parts and has six weeks to design and build a robot based on the team's interpretation of the game scenario. Other than dimension and weight restrictions, the look and function of the robots is up to each individual team. This year more than 2,500 teams from 49 states, and 12 countries will participate.
Comments (0)
This post does not have any comments. Be the first to leave a comment below.
---
Post A Comment
You must be logged in before you can post a comment. Login now.
Featured Product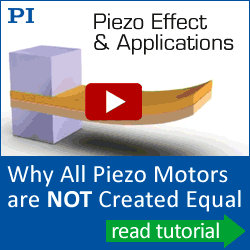 Tested to perform 100 billion cycles by NASA for the Mars mission, piezo actuators efficiently convert electrical energy into mechanical energy. If your application requires any combination of these parameters, you should be using piezo motion: • Fast response • High precision • High force • Long life • Maintenance and lubricants free • Compact dimensions • Non-magnetic, UHV compatible Piezo drives provide the best combination of stability, accuracy, responsiveness, and resolution. Brush up on piezo basics for precision motion, force generation, and nanopositioning applications. Learn more in the piezo tutorial