Inexpensive Tactile Sensors for Robotic Hands
TakkTile's technology leverages MEMS barometers to deliver 1-gram sensitivity for a fraction of the cost of existing systems, in a package durable enough it can survive being hit with a baseball bat. From original research paper:
A new approach to the construction of tactile array sensors based on barometric pressure sensor chips and standard printed circuit boards. The chips include tightly integrated instrumentation amplifiers, analog to digital converters, pressure and temperature sensors, and control circuitry that provides excellent signal quality over standard digital bus interfaces. The resulting array electronics can be easily encapsulated with soft polymers to provide robust and compliant grasping surfaces for specific hand designs. The use of standard commercial-off-the-shelf technologies means that only basic electrical and mechanical skills are required to build effective tactile sensors for new applications.
For $299 the TakkTile Starter Kit includes two TakkStrips cast in rubber and a Arduino Micro.
Comments (0)
This post does not have any comments. Be the first to leave a comment below.
---
Post A Comment
You must be logged in before you can post a comment. Login now.
Featured Product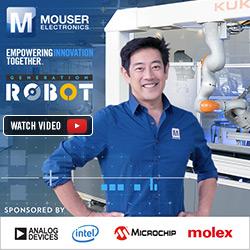 Join Grant Imahara in meeting with KUKA to learn how human-robot collaboration and robot learning is transforming the workplace. Is Industry 4.0 a future where robots and humans all hold hands? Tune in to see.