The Official Arduino Robot
The Arduino Robot is the first official Arduino on wheels. The robot has two processors, one on each of its two boards. The Motor Board controls the motors, and the Control Board reads sensors and decides how to operate. Each of the boards is a full Arduino board programmable using the Arduino IDE.
Both Motor and Control boards are microcontroller boards based on the ATmega32u4. The Robot has many of its pins mapped to on-board sensors and actuators.
Programming the robot is similar to the process with the Arduino Leonardo. Both processors have built-in USB communication, eliminating the need for a secondary processor. This allows the Robot to appear to a connected computer as a virtual (CDC) serial / COM port.
As always with Arduino, every element of the platform – hardware, software and documentation – is freely available and open-source.
On sale at the Maker Faire in San Mateo (May 17-19) and available online starting in July.
Comments (0)
This post does not have any comments. Be the first to leave a comment below.
---
Post A Comment
You must be logged in before you can post a comment. Login now.
Featured Product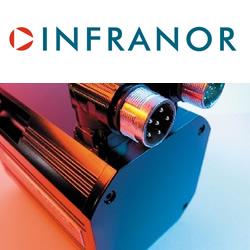 The XtraforsPrime or FP series of slotless brushless servo motors provide improved torque and power density compared to standard brushless servo motors. They are capable of very high speeds (30,000 RPM), smooth ZERO cogging motion, high effiecency and are availble in 8 frame sizes to fit your application needs. To learn more visit our website at www.infranorusa.com/xfprime or contact us at info@infranorusa.com or at (978) 988-9002.