Flutter: $20 Wireless Arduino With Half Mile Range.
What is Flutter?
Flutter is a wireless electronics development platform based on Arduino. With over half a mile of usable range, a powerful ARM processor, and integrated encryption, Flutter makes it easy for you to build projects that communicate across the house, across the neighborhood, and beyond.
Whether you want to check the temperature of a beer-brewing setup, have your mailbox send you a text message when the mailman arrives, control a swarm of flying robots, or just turn on your lights with your phone, Flutter gives you the range, power, and flexibility to do it.
We're not just building circuit boards though. Our goal is simple: make it easier for engineers, makers, builders, and hackers to go farther with their projects than ever before. Even if it's their first time. We're going to arrange and keep a set of basic electronics tutorials so getting started with Flutter is as easy as possible.
Getting Connected
Creating Flutter networks is easy, even if it's just two boards. Specify networks in Arduino code or configure Flutter with our mobile app. Once configured, devices can enter and exit the network seamlessly. This makes it extremely easy to set up a network at home (or anywhere else) where all of your projects can reliably communicate. Flutter is like a second network for your devices.
Comments (0)
This post does not have any comments. Be the first to leave a comment below.
---
Post A Comment
You must be logged in before you can post a comment. Login now.
Featured Product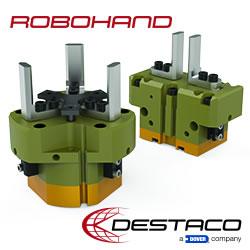 Automatically change end effector tooling quickly and easily with Destaco's Automatic Tool Changers. Designed with exceptional repeatability, high rigidity and load capacity, they are perfect for multiple tooling applications utilizing one robot. We offer different models and sizes to handle light-duty to heavy-duty applications. Our RQC/RTP Series provides a high level of flexibility with a configurable, modular design that accommodates up to four optional modular interfaces.