JPL's RoboSimian
JPL and Stanford will build a simian-inspired limbed robot to participate in the DARPA Robotics Challenge. This groundbreaking RoboSimian uses deliberate and stable operations to complete challenging tasks under supervised tele-operation while in a degraded human environment. This emphasis on stability over dynamics and deliberation over reaction will result in faster and more robust overall operations by decreasing missteps for both robot and human operator. To accomplish this end, the team will employ design methods, system elements, and software algorithms that have already demonstrated success for JPL's unique ATHLETE and Lemur robots, JPL's first-place DARPA ARM-S team, and Stanford's selectively compliant DARPA ARM-H design. In particular, RoboSimian will use its four general purpose limbs and hands, capable of both mobility and manipulation, to achieve passively stable stances; create multi-point anchored connections to supports such as ladders, railings, and stair treads; and brace itself during forceful manipulation operations.
Comments (0)
This post does not have any comments. Be the first to leave a comment below.
---
Post A Comment
You must be logged in before you can post a comment. Login now.
Featured Product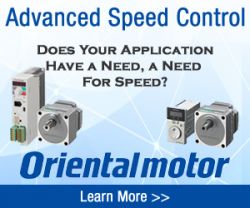 The BLE2 Series replaces our popular BLE Series and continues our brushless motor advantages by featuring an all new compact, high-power and high-efficiency brushless DC motor combined with a Driver that can be digitally set and controlled via external DC voltage or by the front panel. The BLE2 Series can easily compete with larger 3-phase inverter driven motors in many more applications, with built-in simple holding torque function, saving space and increasing performance thanks to the advantages of a brushless motor design. The BLE2 Series has a maximum speed of 4000 r/min, achieving a speed ratio of 1:50 (80 to 4000 r/min). The new motor structure is small than previous models and enables high power and high efficiency while incorporating easy setting, installation and wiring. The new motor connector offers IP66 degree of protection and allows for easy and direct connection between motor and driver with two available orientation of cable outlet direction. Standardized use of stain