Arduino Galileo From Intel And Arduino TRE From TI
Official Intel Datasheet:
Galileo is a microcontroller board based on the Intel® Quark SoC X1000 Application Processor, a 32-bit Intel Pentium-class system on a chip. It is the first board based on Intel® architecture designed to be hardware and software pin-compatible with Arduino shields designed for the Uno R3. Digital pins 0 to 13 (and the adjacent AREF and GND pins), Analog inputs 0 to 5, the power header, ICSP header, and the UART port pins (0 and 1), are all in the same locations as on the Arduino Uno R3. This is also known as the Arduino 1.0 pinout.
In addition to Arduino hardware and software compatibility, the Galileo board has several PC industry standard I/O ports and features to expand native usage and capabilities beyond the Arduino shield ecosystem. A full sized mini-PCI Express slot, 100Mb Ethernet port, Micro-SD slot, RS-232 serial port, USB Host port, USB Client Port, and 8 MByte NOR flash come standard on the board.
Available Nov 29 for under $60
Arduino TRE, based on the Texas Instruments Sitara AM335x ARM Cortex-A8 processor is the "most powerful Arduino to date" and the first that will be able to run "full Linux."
Thanks to the 1-GHz Sitara AM335x processor, Arduino developers get up to 100 times more performance with the Sitara-processor-based TRE than they do on the Arduino Leonardo or Uno. This performance opens the doors to more advanced Linux-powered applications. The Sitara-processor-based Linux Arduino can run high-performance desktop applications, processing-intensive algorithms or high-speed communications.
The Arduino TRE is expected to be available in spring 2014
Comments (0)
This post does not have any comments. Be the first to leave a comment below.
---
Post A Comment
You must be logged in before you can post a comment. Login now.
Featured Product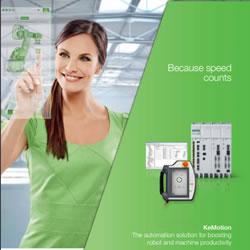 Best ergonomics and an intuitive user interface are key factors for efficient operation and monitoring. With the KeTop devices, high-performance, application-optimized hardware is available. The turnkey TeachView robotics user interface enables fast and easy teach-in. User-friendly HMIs are created with the easy-to-operate KeView visualization software - an optimum user experience is guaranteed.