Rex: A Single-board Computer With A Full OS That Is Designed For Robots
From the Rex Kickstarter:
Why do you want Rex?
There are two general classes of electronics used in robot hardware: microcontrollers (ex. Arduino) and single-board computers. Microcontrollers are great for projects that only require a single program to be run, quickly and without overhead, like controlling LEDs and motors. Single-board computers are great for anything you'd need a cheap, small computer for - like networking applications and image processing.
Advanced autonomous robots require the strengths of both. A system developed around Rex, being made specifically for robots, brings it all together in one nice little package in a way that has never been done before.
Hardware Specs:
Texas Instruments DM3730
1GHz 32-bit ARM Cortex-A8 Processor core
800MHz DSP core
512MB LPDDR RAM
USB Host port
MicroSD slot
Camera Module port
3.5mm Audio-in jack
3.5mm Audio-out jack
5V DC input for desktop development
Each Rex will come pre-installed with Alphalem OS, a FOSS custom linux distribution. It includes a core set of built-in device drivers - ones that we've hand-picked as being the most useful for robots (like USB WiFi adapters and cameras). We'll publish the list in a wiki on our website.
Here are the other main features:
An Arduino-style programming environment with support for multiple programming languages (C, C++, Python).
A special task manager called the Master Control Program (MCP).
An API for message passing in multi-process applications.
A standard Linux filesystem which will allow you to install just about any Linux software that can be cross-compiled for ARM.
Libraries for common processes such as I2C communication, face detection, and sensor reading.
Comments (0)
This post does not have any comments. Be the first to leave a comment below.
---
Post A Comment
You must be logged in before you can post a comment. Login now.
Featured Product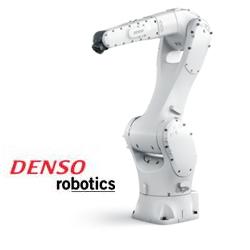 The new VMB series represent some of the newest members to our 6-axis family of robots. These high-performance, versatile units offer a longer arm reach and a higher load capacity than traditional models which make VMB an excellent solution for palletizing, packaging, and material handling. New features include greater air piping, valve and signal line options, as well as new programming options with state-of-the-art functions using our new WINCAPS Plus software. VMB offers an IP67 protection grade along with meeting ISO Class 5, which makes them suitable for electric parts, food manufacturing processes, and pharmaceutical and medical devices. With the addition of the new VMB large robots, all manufacturing processes can now be automated by DENSO Robotics.