DARwIn-mini
Available now at Maker Shed for $499:
If you haven't checked out the amazing capabilities of the DARwIn-OP Deluxe Edition, you should! DARwIn-Mini is the younger, but no less amazing, sibling of this award winning robot. DARwIn-Mini is Dynamic Anthropomorphic Robot with Intelligence from Korea-based ROBOTIS kits, famed for their transformability and stunning humanoid designs.
Comments (0)
This post does not have any comments. Be the first to leave a comment below.
---
Post A Comment
You must be logged in before you can post a comment. Login now.
Featured Product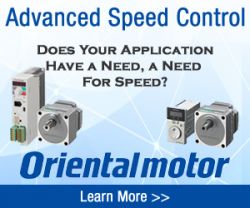 The BLE2 Series replaces our popular BLE Series and continues our brushless motor advantages by featuring an all new compact, high-power and high-efficiency brushless DC motor combined with a Driver that can be digitally set and controlled via external DC voltage or by the front panel. The BLE2 Series can easily compete with larger 3-phase inverter driven motors in many more applications, with built-in simple holding torque function, saving space and increasing performance thanks to the advantages of a brushless motor design. The BLE2 Series has a maximum speed of 4000 r/min, achieving a speed ratio of 1:50 (80 to 4000 r/min). The new motor structure is small than previous models and enables high power and high efficiency while incorporating easy setting, installation and wiring. The new motor connector offers IP66 degree of protection and allows for easy and direct connection between motor and driver with two available orientation of cable outlet direction. Standardized use of stain