Algorithm that harnesses data from a new sensor could make autonomous robots more nimble.
MIT paper from Andrea Censi and Davide Scaramuzza:
The agility of a robotic system is ultimately limited by the speed of its processing pipeline. The use of a Dynamic Vision Sensors (DVS), a sensor producing asynchronous events as luminance changes are perceived by its pixels, makes it possible to have a sensing pipeline of a theoretical latency of a few microseconds. However, several challenges must be overcome: a DVS does not provide the grayscale value but only changes in the luminance; and because the output is composed by a sequence of events, traditional frame-based visual odometry methods are not applicable. This paper presents the first visual odometry system based on a DVS plus a normal CMOS camera to provide the absolute brightness values. The two sources of data are automatically spatiotemporally calibrated from logs taken during normal operation. We design a visual odometry method that uses the DVS events to estimate the relative displacement since the previous CMOS frame by processing each event individually. Experiments show that the rotation can be estimated with surprising accuracy, while the translation can be estimated only very noisily, because it produces few events due to very small apparent motion... (full paper)
Comments (0)
This post does not have any comments. Be the first to leave a comment below.
---
Post A Comment
You must be logged in before you can post a comment. Login now.
Featured Product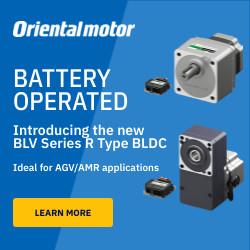 The BLE2 Series replaces our popular BLE Series and continues our brushless motor advantages by featuring an all new compact, high-power and high-efficiency brushless DC motor combined with a Driver that can be digitally set and controlled via external DC voltage or by the front panel. The BLE2 Series can easily compete with larger 3-phase inverter driven motors in many more applications, with built-in simple holding torque function, saving space and increasing performance thanks to the advantages of a brushless motor design. The BLE2 Series has a maximum speed of 4000 r/min, achieving a speed ratio of 1:50 (80 to 4000 r/min). The new motor structure is small than previous models and enables high power and high efficiency while incorporating easy setting, installation and wiring. The new motor connector offers IP66 degree of protection and allows for easy and direct connection between motor and driver with two available orientation of cable outlet direction. Standardized use of stain