Blocky: A Graphic Programming Environment for ROS
From the robotics laboratory of Ben Gurion University: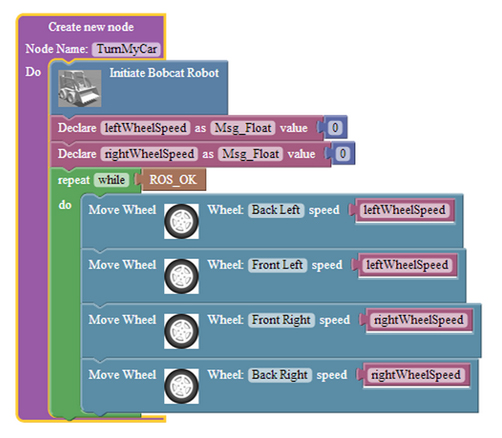 The main goal of this project it to allow users with only basic background in programming to develop software for controlling robots using ROS, this by developing a graphical interface that is user-friendly and convenient for programing to ROS. Researchers or other users often encounter a problem when come to develop a robot, they lack extensive background in programming and most of the times comes from a slightly different backgrounds (such as mechanical engineering or electrical engineering) which requires them long-term learning or rely on other professionals. The graphical interface shown in this project suggests that a researcher or a user to control a robot in a simple and more intuitive way without having to spend weeks learning the principles of ROS and without having to learn to program at all.
This project product is a web-content, generic, open source, extensible and user-friendly program that helps in the development of a ROS based robot, while providing tools for correct developing... (cont'd)
Comments (0)
This post does not have any comments. Be the first to leave a comment below.
---
Post A Comment
You must be logged in before you can post a comment. Login now.
Featured Product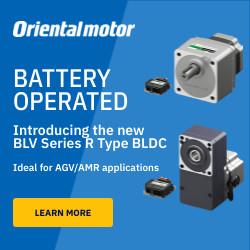 The BLE2 Series replaces our popular BLE Series and continues our brushless motor advantages by featuring an all new compact, high-power and high-efficiency brushless DC motor combined with a Driver that can be digitally set and controlled via external DC voltage or by the front panel. The BLE2 Series can easily compete with larger 3-phase inverter driven motors in many more applications, with built-in simple holding torque function, saving space and increasing performance thanks to the advantages of a brushless motor design. The BLE2 Series has a maximum speed of 4000 r/min, achieving a speed ratio of 1:50 (80 to 4000 r/min). The new motor structure is small than previous models and enables high power and high efficiency while incorporating easy setting, installation and wiring. The new motor connector offers IP66 degree of protection and allows for easy and direct connection between motor and driver with two available orientation of cable outlet direction. Standardized use of stain