ArduIMU V4: An Arduino Based Integrated Measurement Unit
Kickstarter for version 4 of ArduIMU:
Initially, the ArduIMU project was started as an open source project by 3DRobotics in 2007 to create an inertial measurement unit based on the Arduino™. We contributed to the software development of that project, but, the initial ArduIMU was meant to be used solely as an inertial measurement unit. We want to do better than that; so we developed a brand new platform with other sensors such as a barometer, relative humidity sensor, and light sensor. We also included wireless communication capabilities as well an SD card for data logging and storage. Since then, we have gone through many revisions, adding even more sensors and functions which are present in the latest ArduIMU V4. With this new augmented and improved sensor board we are redefining the term IMU. We proudly present our Arduino™ based Integrated Measurement Unit: the ArduIMU V4... (cont'd)
Comments (0)
This post does not have any comments. Be the first to leave a comment below.
---
Post A Comment
You must be logged in before you can post a comment. Login now.
Featured Product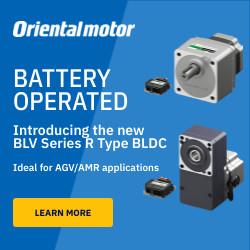 The BLE2 Series replaces our popular BLE Series and continues our brushless motor advantages by featuring an all new compact, high-power and high-efficiency brushless DC motor combined with a Driver that can be digitally set and controlled via external DC voltage or by the front panel. The BLE2 Series can easily compete with larger 3-phase inverter driven motors in many more applications, with built-in simple holding torque function, saving space and increasing performance thanks to the advantages of a brushless motor design. The BLE2 Series has a maximum speed of 4000 r/min, achieving a speed ratio of 1:50 (80 to 4000 r/min). The new motor structure is small than previous models and enables high power and high efficiency while incorporating easy setting, installation and wiring. The new motor connector offers IP66 degree of protection and allows for easy and direct connection between motor and driver with two available orientation of cable outlet direction. Standardized use of stain