ReWalk Robotics Hopes to Raise $50M in IPO
From Boston Herald:
A company with U.S. headquarters in Marlborough that was recently awarded FDA approval to sell its robotic exoskeletons for paraplegics plans to raise $50 million in an IPO this week, possibly on Friday.
Israeli-based ReWalk Robotics is planning to sell 3.5 million shares for between $14 and $16 each, which puts it at the low end of the 13 local health care companies which have gone public since the beginning of the year, more than any other year in history. Most of those have been biotech companies, however, making ReWalk the first robotics-focused company to do so in at least a couple of years... (cont'd)
Comments (0)
This post does not have any comments. Be the first to leave a comment below.
---
Post A Comment
You must be logged in before you can post a comment. Login now.
Featured Product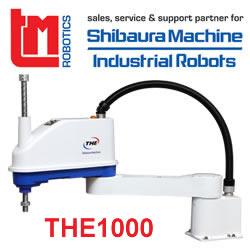 Designed for assembly and inspection applications in the electronics equipment and automobile components industries, the THE600 SCARA is a powerful automation tool. Advancing from the specifications of the existing THE400 SCARA, the THE600 has been developed to meet growing demand for fast-cycle automation. The THE600 model includes improvements in synchronised control and tracking precision. The THE600 is compact in design and offers improved high speed, with 60 per cent higher payload capacity than competing SCARA models in the same price range, making it the price-to-performance leader. Affordable price, impressive performance.