MegaBots: Live-Action Giant Robot Combat
From MegaBots Kickstarter:
The mad scientists at MegaBots, Inc. have been zealously working on the prototypes and final design of 15-foot-tall, 15,000-pound, walking humanoid combat robots with giant, modular pneumatic cannons for arms. A driver-and-gunner team pilot each MegaBot in a battle against other MegaBots, vehicles, and a variety of other defenses and obstacles in live-action combat – the likes of which the world has only dreamed of through video games and movies...
...At our minimum funding level ($1.8M), we can build two robots. They'll duke it out in an epic 1-on-1 deathmatch tournament. At higher funding levels, we can build more MegaBots and unlock the gameplay options you know and love: team deathmatches, free-for-alls, king of the hill, capture the flag, home base capture, escort missions, and more! (Kickstarter)
Comments (0)
This post does not have any comments. Be the first to leave a comment below.
---
Post A Comment
You must be logged in before you can post a comment. Login now.
Featured Product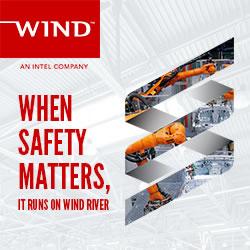 When it comes to ensuring the development of can't-fail systems, Wind River® is a leader with a proven track record of success. With more than 30 years of experience in embedded software and a portfolio of products deployed across more than 2 billion devices, Wind River delivers safety and security when it counts most. From industrial automation to automotive systems, as well as in healthcare devices, railway operations, and throughout the aerospace and defense sector, Wind River has extensive expertise providing built-in safety for complex, connected, safety-critical systems.