Robot Octopus Takes to the Sea
From Evan Ackerman at IEEE Spectrum:
The video below has four parts to it: the first shows the difference between the robotic octopus swimming with just flexible arms, and swimming with just flexible arms in addition to a web. The most obvious difference is the speed: just over 100 millimeters per second with arms only, and up to 180 mm/s (or 0.5 body lengths per second) with the web. This is a significant increase, obviously, but what's more important is the overall cost of transport (CoT), which is a measure of the efficiency of the robot (specifically, the ratio of the energy put in over the resulting speed). The CoT for the arms-only version is 0.85, whereas the web drops that down to 0.62. So yeah, having that web in there is better in almost every way... (cont'd)
Comments (0)
This post does not have any comments. Be the first to leave a comment below.
---
Post A Comment
You must be logged in before you can post a comment. Login now.
Featured Product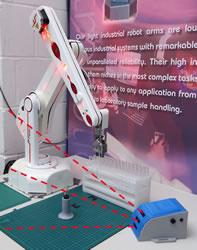 The 6-axis version of the R17HS high speed variant of the R17 robot is now available. As is our policy the 6th axis is an optional bolt-on module. At the same time we have made it even faster and new software eliminates shake and greatly improves repeatability as this video shows. Please see https://www.youtube.com/watch?v=3wG0MeiJ-yE. The video would seem to imply a repeatability of 0.01mm but we are sticking with 0.2mm in the spec. The motor specialist was able to tune the motors from the other side of the pond. My first reaction when we put power on and entered the first commands was to jump back in amazement (and maybe an expletive). Tip speed is now 3m/s; that's 3 times as fast as its nearest competitor yet costs half the price. I love it when a plan comes together.