Fetch Robotics' Fetch & Freight
From Fetch Robotics (the core team from Unbounded Robotics/all former employees of Willow Garage):
The Fetch Robotics' system is comprised of a mobile base (called Freight) and an advanced mobile manipulator (called Fetch). Fetch and Freight can also use a charging dock for autonomous continuous operations; allowing the robots to charge when needed and then continue on with their tasks. In addition, the system includes accompanying software to support the robots and integrate with the warehouse environment. Both robots are built upon the open source robot operating system, ROS.
Fetch is an advanced mobile manipulator, including features such as:
Telescoping spine with variable height from 1.09 to 1.491 meters
Capacity to lift approximately 6 kgs.
3D RGB Depth Sensor
Back-Drivable 7DOF Arm
Modular Gripper Interface
Head Expansion Mount Points
Pan-Tilt Head
Differential Drive
ROS-Enabled
Freight is a modular base, used separately or in conjunction with Fetch. Features include:
Base Expansion Mount Points
Payload support of approximately 68 kgs.
2D Laser Scanner
Stereo Speaker
Computer Access Panel
Run-Stop
ROS-Enabled
Comments (0)
This post does not have any comments. Be the first to leave a comment below.
---
Post A Comment
You must be logged in before you can post a comment. Login now.
Featured Product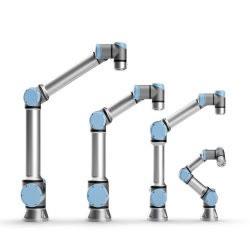 Collaborative robots from Universal Robots are bringing flexible, quick-to-deploy automation to manufacturers of all sizes. With payloads ranging from 3kg to 16kg, UR's cobots can handle nearly any dull, dirty dangerous task, from assembly to painting; palletizing to screw-driving; injection molding to welding. This family of four robot arms can help you improve productivity to compete in a global market. Learn more at www.universal-robots.com.