CLEARPATH ROBOTICS ANNOUNCES MOBILITY SOLUTION FOR RETHINK ROBOTICS' BAXTER ROBOT
Clearpath Robotics announced the newest member of its robot fleet: an omnidirectional development platform called Ridgeback. The mobile robot is designed to carry heavy payloads and easily integrate with a variety of manipulators and sensors. Ridgeback was unveiled as a mobile base for Rethink Robotics' Baxter research platform at ICRA 2015 in Seattle, Washington.
"Many of our customers have approached us looking for a way to use Baxter for mobile manipulation research - these customers inspired the concept of Ridgeback. The platform is designed so that Baxter can plug into Ridgeback and go," said Julian Ware, General Manager for Research Products at Clearpath Robotics. "Ridgeback includes all the ROS, visualization and simulation support needed to start doing interesting research right out of the box."
Ridgeback's rugged drivetrain and chassis is designed to move manipulators and other heavy payloads with ease. Omnidirectional wheels provide precision control for forward, lateral or twisting movements in constrained environments. Following suit of other Clearpath robots, Ridgeback is ROS-ready and designed for rapid integration of sensors and payloads; specific consideration has been made for the integration of the Baxter research platform.
Comments (0)
This post does not have any comments. Be the first to leave a comment below.
---
Post A Comment
You must be logged in before you can post a comment. Login now.
Featured Product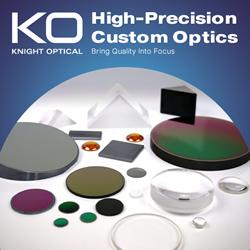 In the era of Industry 4.0, automation and machine learning drive the future. Knight Optical stands at the forefront, collaborating globally to supply precision optical components that power the robotics and automation sector. From UAVs, drones, and robotics to machine vision, LiDAR-driven car sensors, and renewable energy, our optics empower innovation. Optical components play an important role within the industry, including: Optical windows and domes safeguard systems in unmanned vehicles while preserving the field of view for cameras. Infrared lenses with aspheric surfaces elevate thermal imaging. Optical filters excel in machine vision, with colour glass, interference, and dichroic filters in our stock. Knight Optical provides stock components and custom solutions made to your exact specs. With every component undergoing rigorous metrology and QA checks before shipment, you are sure to experience true precision, innovation, and assurance.