Think You Know Industrial Robots? Think Again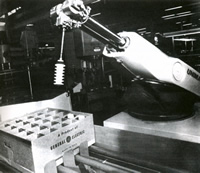 Jim Lawton for Forbes: Peter Drucker said "Culture eats strategy for breakfast" and in my experience there's no industry where that wisdom holds more true than manufacturing. I'm not a hardened cynic, just a pragmatist, having spent the majority of my career bringing technology that disrupts the status quo – from inventory optimization and managing risk in the supply base to collaborative robots. Manufacturers are among the most skeptical buyers and for good reason – what they do is hard, complex and things are done the way they are done because it's been proven to work. There are times though when the opportunity to transform the business is so compelling that – as Drucker said – executives need to spend whatever time is necessary to tear down the cultural barriers that are getting in the way of the strategy that capitalizes on the moment.
In the category of robotics and industrial automation, now is one of those times. It's been more than 50 years since Unimate went to work at a GM plant unloading heavy parts and welding them onto automobile frames. Manufacturing has changed a lot and today is on an evolutionary path toward the 4th industrial revolution. Unfortunately, while executives may be ready to move quickly toward the factories of the future for first mover advantage, many automation engineers remain entrenched in 20th century thinking about robots — when they were highly customized solutions, designed to perform one task over and over again, with a price tag to match. Cont'd...
Comments (0)
This post does not have any comments. Be the first to leave a comment below.
---
Post A Comment
You must be logged in before you can post a comment. Login now.
Featured Product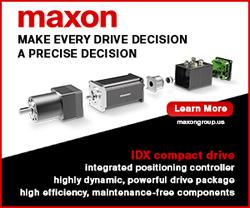 The compact brushless EC-i motor combined with an EPOS4 positioning controller delivers a highly dynamic, powerful drive package with field-oriented control (FOC), high efficiency, and maintenance-free components in a high-quality industrial housing. The maxon IDX drives are suitable for use across the entire speed range (from standstill to maximum speed) and have an extremely high overload capability. Together with a positioning controller, the integrated sensor (single turn) enables absolute positioning.