Robotics, reshoring, and American jobs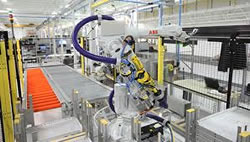 By Charles Orlowek for The Hill: Good news? Boston Consulting Group foresees more large manufacturers boosting production for the American market by adding capacity in the U.S. itself, compared with any other country. It cites "decreasing costs and improved capabilities of advanced manufacturing technologies such as robotics." Under this optimistic scenario, how much value would American workers add? When robotics and other automation gets built for, and installed in American workplaces, where are jobs created?
Increasingly, these jobs are being created and sustained outside the United States, even for domestic factories.
The first industrial robots were developed and manufactured by Americans, and General Motors became the first user, in 1961. Over recent decades, however, the domestic robot industry has declined. A Commerce Department national security assessment from 1991 asserted that American robot manufacturers lost market share throughout the 1980s, with shipments of U.S.-manufactured robots falling by 33 percent between 1984 and 1989, despite robust domestic demand and a weak dollar. Cont'd...
Comments (0)
This post does not have any comments. Be the first to leave a comment below.
---
Post A Comment
You must be logged in before you can post a comment. Login now.
Featured Product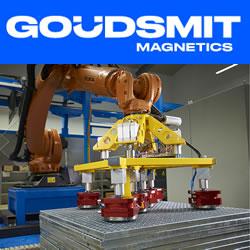 Magnetic robot end-of-arm tooling are suitable for the automated pick-up and positioning of steel or other ferromagnetic objects. They can be switched on and off and have a threaded mounting hole for robots. Magnetic grippers are an efficient alternative for traditional robot grippers. Application in automated production lines and for robots and pick-and-place systems. Magnetic product handling reduces the duration and number of operations. Goudsmit Magnetics is driven by magnetism since 1959. See how it works: https://youtu.be/hcXJ98mXHZE