Image Processing 101
Sher Minn Chong wrote a good introductory to image processing in Python:
In this article, I will go through some basic building blocks of image processing, and share some code and approaches to basic how-tos. All code written is in Python and uses OpenCV, a powerful image processing and computer vision library...
... When we're trying to gather information about an image, we'll first need to break it up into the features we are interested in. This is called segmentation. Image segmentation is the process representing an image in segments to make it more meaningful for easier to analyze3.
Thresholding
One of the simplest ways of segmenting an image isthresholding. The basic idea of thresholding is to replace each pixel in an image with a white pixel if a channel value of that pixel exceeds a certain threshold... (full tutorial) (iPython Notebook)
Comments (0)
This post does not have any comments. Be the first to leave a comment below.
---
Post A Comment
You must be logged in before you can post a comment. Login now.
Featured Product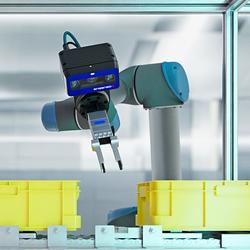 Combining the ease of use of a webcam with the performance and reliability of an industrial camera? The uEye XC autofocus camera from IDS Imaging Development Systems proves that this is possible. Its high-resolution imaging, simple setup and adaptability make it an invaluable tool for improving quality control and streamlining workflows in industrial settings - especially for cases where users would normally employ a webcam. The uEye XC autofocus camera features a 13 MP onsemi sensor and supports two different protocols: USB3 Vision, which enables programmability and customization, and UVC (USB Video Class). The UVC functionality enables a single cable connection for easy setup and commissioning, while delivering high-resolution images and video. This makes the uEye XC camera an ideal option for applications that require quick setup and need to manage variable object distances. Additional features such as digital zoom, automatic white balance and color correction ensure precise detail capture, which is essential for quality control.