Cozmo Is an Artificially Intelligent Toy Truck That's Also the Future of Robotics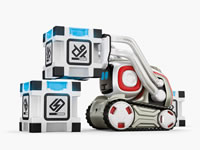 CADE METZ for WIRED: HANNS TAPPEINER TYPES a few lines of code into his laptop and hits "return." A tiny robot sits beside the laptop, looking like one of those anthropomorphic automobiles that show up in Pixar's Cars movies. Almost instantly, it wakes up, rolls down the table, and counts to four. This is Cozmo—an artificially intelligent toy robot unveiled late last month by San Francisco startup Anki—and Tappeiner, one of the company's founders, is programming the little automaton to do new things.
The programs are simple—he also teaches Cozmo to stack blocks—but they're supposed to be simple. Tappeiner is using Anki's newly unveiled software development kit—an SDK, in coder parlance—that he says even the greenest of coders can use to tweak the behavior of the toy robot. And that's a big deal, at least according to Anki. The company claims the SDK is the first of its kind: a kit that lets anyone program such an intelligent robot, a robot that recognizes faces and navigates new environments and even mimics emotions. With the kit, Tappeiner says, "we're trying to advance the field of robotics." He compares the move to Apple letting people build apps for the iPhone. Cont'd...
Comments (0)
This post does not have any comments. Be the first to leave a comment below.
---
Post A Comment
You must be logged in before you can post a comment. Login now.
Featured Product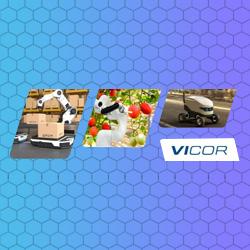 Vicor power modules support a component-based power delivery network to power motor drives and demanding CPUs. They are optimized for high efficiency, density, overall performance and are also lightweight compared to other solutions. These modules can also be paralleled, allowing for scalability in power as robotic power demands increase and also allow for the same power architecture to be deployed within a platform of various sized robot systems.