This Robot Can Do More Push-Ups Because It Sweats
Evan Ackerman for IEEE Spectrum: When we use our muscles, they produce heat as a byproduct. When we use them a lot, we need to actively cool them, which is why we sweat. By sweating, we pump water out of our bodies, and as that water evaporates, it cools us down. Robots, especially dynamic robots like humanoids that place near-constant high torque demands on their motors, generate enough heat that it regularly becomes a major constraint on their performance. One of the reasons that SCHAFT did so well at the DRC Trials, for example, was their fancy liquid-cooled motors that could put out lots of torque over an extended period of time without overheating.
Engineers solve this heat-generating problem in most mechanical systems by using fans, heat sinks, and radiators, which means that you've got all of this dedicated cooling infrastructure that takes up space and adds mass. At the IEEE/RSJ International Conference on Intelligent Robots and Systems (IROS) this week, Japanese researchers presented a novel idea of how to cool humanoid robots in a much more efficient way: Design them to be able to sweat water straight out of their bones. Cont'd...
Comments (0)
This post does not have any comments. Be the first to leave a comment below.
---
Post A Comment
You must be logged in before you can post a comment. Login now.
Featured Product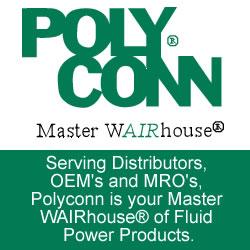 We can produce pneumatic hose and other pneumatic products to match your exact specifications. Our proficient engineering and quality management, coupled with outstanding customer service means Polyconn delivers high quality pneumatic components at competitive prices. Place your order or contact Polyconn for more information on our pneumatic hoses, pneumatic manifolds, Duratec® Pipe or any of our other top quality pneumatic products and components.