Deepmind and Blizzard to Release Starcraft II as an AI Research Environment
From DeepMind: For almost 20 years, the StarCraft game series has been widely recognised as the pinnacle of 1v1 competitive video games, and among the best PC games of all time. The original StarCraft was an early pioneer in eSports, played at the highest level by elite professional players since the late 90s, and remains incredibly competitive to this day. The StarCraft series' longevity in competitive gaming is a testament to Blizzard's design, and their continual effort to balance and refine their games over the years. StarCraft II continues the series' renowned eSports tradition, and has been the focus of our work with Blizzard.
DeepMind is on a scientific mission to push the boundaries of AI, developing programs that can learn to solve any complex problem without needing to be told how. Games are the perfect environment in which to do this, allowing us to develop and test smarter, more flexible AI algorithms quickly and efficiently, and also providing instant feedback on how we're doing through scores... (more)
Comments (0)
This post does not have any comments. Be the first to leave a comment below.
---
Post A Comment
You must be logged in before you can post a comment. Login now.
Featured Product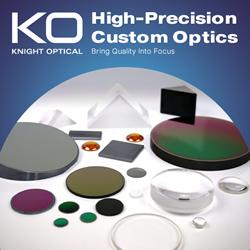 Knight Optical (KO) has provided discerning engineers, designers, and the like from the automation sector with dependable, premium-quality optics for over three decades. Throughout this time, the leading supplier has helped refine the precision of some of the world's most innovative technologies and partnered with a wide range of companies throughout the industry. In this article, Automation talks to KO about its involvement in the sector and, ultimately, finds out more about how the optical brand can help your supply chain process.