Engineers Devise New Method to Heighten Senses of Soft Robot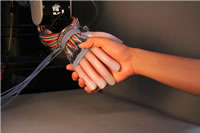 Written by AZoRobotics: Most robots achieve grasping and tactile sensing through motorized means, which can be excessively bulky and rigid. A Cornell group has devised a way for a soft robot to feel its surroundings internally, in much the same way humans do.
A group led by Robert Shepherd, assistant professor of mechanical and aerospace engineering and principal investigator of Organic Robotics Lab, has published a paper describing how stretchable optical waveguides act as curvature, elongation and force sensors in a soft robotic hand.
Doctoral student Huichan Zhao is lead author of "Optoelectronically Innervated Soft Prosthetic Hand via Stretchable Optical Waveguides," which is featured in the debut edition of Science Robotics. The paper published Dec. 6; also contributing were doctoral students Kevin O'Brien and Shuo Li, both of Shepherd's lab. Cont'd...
Comments (0)
This post does not have any comments. Be the first to leave a comment below.
---
Post A Comment
You must be logged in before you can post a comment. Login now.
Featured Product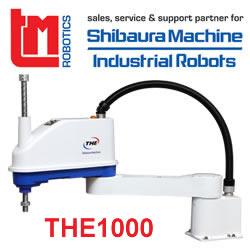 Designed for assembly and inspection applications in the electronics equipment and automobile components industries, the THE600 SCARA is a powerful automation tool. Advancing from the specifications of the existing THE400 SCARA, the THE600 has been developed to meet growing demand for fast-cycle automation. The THE600 model includes improvements in synchronised control and tracking precision. The THE600 is compact in design and offers improved high speed, with 60 per cent higher payload capacity than competing SCARA models in the same price range, making it the price-to-performance leader. Affordable price, impressive performance.