Swarm of Underwater Robots Mimics Ocean Life
UCSD: Underwater robots developed by researchers at Scripps Institution of Oceanography at the University of California San Diego offer scientists an extraordinary new tool to study ocean currents and the tiny creatures they transport. Swarms of these underwater robots helped answer some basic questions about the most abundant life forms in the ocean—plankton.
Scripps research oceanographer Jules Jaffe designed and built the miniature autonomous underwater explorers, or M-AUEs, to study small-scale environmental processes taking place in the ocean. The ocean-probing instruments are equipped with temperature and other sensors to measure the surrounding ocean conditions while the robots "swim" up and down to maintain a constant depth by adjusting their buoyancy. The M-AUEs could potentially be deployed in swarms of hundreds to thousands to capture a three-dimensional view of the interactions between ocean currents and marine life. Cont'd...
Comments (0)
This post does not have any comments. Be the first to leave a comment below.
---
Post A Comment
You must be logged in before you can post a comment. Login now.
Featured Product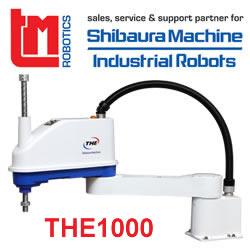 Designed for assembly and inspection applications in the electronics equipment and automobile components industries, the THE600 SCARA is a powerful automation tool. Advancing from the specifications of the existing THE400 SCARA, the THE600 has been developed to meet growing demand for fast-cycle automation. The THE600 model includes improvements in synchronised control and tracking precision. The THE600 is compact in design and offers improved high speed, with 60 per cent higher payload capacity than competing SCARA models in the same price range, making it the price-to-performance leader. Affordable price, impressive performance.