MIT Builds Invisible Fish Grabbing Robot
Matthew Humphries for PCMag: Catching a fish can be tough, even if you are just trying to net a goldfish in a small tank. That's because the fish spots the danger and makes a swim for it. But what if you didn't need a net because you're controlling an invisible grabbing robot?
That's what Xuanhe Zhao, a professor of mechanical engineering at MIT succeeded in creating, but its applications go way beyond catching and releasing fish unharmed.
The robot is constructed of a transparent hydrogel, which is strong and durable but mostly made of water. As the video below explains, each arm of the robot is constructed from 3D-printed hollow cubes of hydrogel, which are then linked together. By injecting water using a syringe it's possible to make the arms curl and uncurl quickly in a grabbing motion. Cont'd...
Comments (0)
This post does not have any comments. Be the first to leave a comment below.
---
Post A Comment
You must be logged in before you can post a comment. Login now.
Featured Product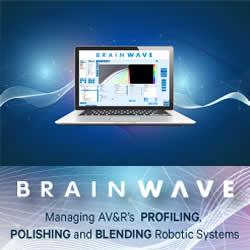 The AV&R team has developed a software for our robotic machines with the mission to make robotics accessible to everyone. This software is the glue which orchestrates the interaction between the system components in a single user-friendly interface. Comparing our machines to ourselves as humans, this software would be the control center of all faculties of the body, hence its name: BrainWave.