Coming soon: Security robots that patrol streets – or guard your home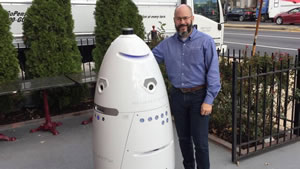 Tim Johnson for McClatchy DC:  The security guard of the future is an all-seeing robot, endowed with laser scanning, thermal imaging, 360-degree video and sensors for all kinds of signals.
Only, the future is now. Dozens of the self-propelled, wheeled robots are already on patrol in places like the Golden 1 Center arena in Sacramento, a residential development near Tampa, and at venues in Boston, Atlanta and Dallas.
They are cheaper than human beings, require no health insurance, never clamor for a raise and work 24 hours a day. They also sometimes do daffy things, like fall into fountains.
A Mountain View, California, start-up, Knightscope, contracts out four types of indoor and outdoor robotic sentinels. So far, it has put 47 in service in 10 states.
"Were about to see a rising of this type of technology," said Stacy Dean Stephens, a cofounder of Knightscope, as he stood beside a white model dubbed K5. "Its very reasonable to believe that by the end of next year, wed have a couple of hundred of these out."
The Knightscope robots are both friendly, with calming blue lights, and imposing in size.
"They get attention," Stephens said. "Theres a reason theyre five-and-a-half feet tall. Theres a reason they are three feet wide, weigh over 400 pounds, because you want it to be very conspicuous."  Full Article:
Comments (0)
This post does not have any comments. Be the first to leave a comment below.
---
Post A Comment
You must be logged in before you can post a comment. Login now.
Featured Product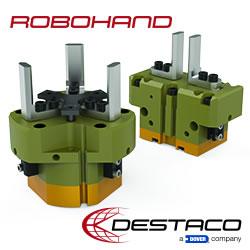 Destaco's Robohand RDH/RTH Series 2 and 3 jaw parallel grippers have a shielded design that deflects chips and other particulate for a more reliable, repeatable operation in part gripping applications ranging from the small and lightweight, to the large and heavy. RDH Series of Rugged, Multi-Purpose Parallel Grippers for Heavy Parts - Designed for high particulate application environments, automotive engine block, gantry systems, and ideal for heavy part gripping The series includes eight sizes for small lightweight to large/heavy part gripping. RTH Series of Powerful, Multi-Purpose Parallel Grippers for Heavy Parts - Designed for large round shaped parts, automotive engine block and gantry systems, and heavy part gripping. They're available in eight sizes for small lightweight to large and heavy part gripping.