With 'material robotics,' intelligent products won't even look like robots
Oregon State University via Science Daily: Robots as inconspicuous as they are ubiquitous represent the vision of researchers in the new and burgeoning field of material robotics.
In an invited perspective paper published today in Science Robotics, Oregon State University researcher Yiğit Mengüç and three co-authors argue against looking at robotics as a "dichotomy of brain versus body."
Mengüç and collaborators from the University of Colorado, Yale University and École Polytechnique Fédérale de Lausanne take a view that seeks to dissolve the basic assumption that robots are either "machines that run bits of code" or "software 'bots' interacting with the world through a physical instrument."
"We take a third path: one that imbues intelligence into the very matter of a robot," said Mengüç, assistant professor of mechanical engineering in OSU's College of Engineering and part of the college's Collaborative Robotics and Intelligent Systems Institute. "The future we're dreaming of is one of material-enabled robotics, something akin to robots themselves being integrated into day-to-day objects."
Such as footwear, for example.
"Shoes that are able to intelligently support your gait, change stiffness as you're running or walking, or based upon the surface you're on or the biomechanics of your foot," Mengüç said. "That's one potential product. Examples of that kind of material intelligence abound in nature, where complex functionality results from systems of simple materials.
"The point here with something like a self-adjusting shoe is it no longer resembles a robot -- that's kind of the direction of ubiquity we're imagining." Full Article:
Comments (0)
This post does not have any comments. Be the first to leave a comment below.
---
Post A Comment
You must be logged in before you can post a comment. Login now.
Featured Product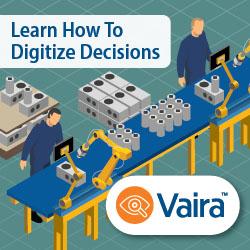 Seamless, Smart Inspection. Designed to work with existing inspection hardware and software, the embedded platform integrates plug-in vision inspection AI skills, a user-friendly approach to integrate custom capabilities, and a powerful NVIDIA GPU to accelerate the development of more advanced machine learning and computer vision algorithms.