Ava Robotics Announces New Video Collaboration Solution to Increase Productivity and Eliminate Physical Boundaries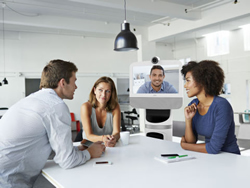 Ava® Robotics, a start-up building upon a deep technical heritage from iRobot, is creating autonomous mobile robots to be part of everyday life, today announced the launch of Ava, a new video collaboration solution that offers users "practical teleportation" with the ability to transform remote work and site visits.
Using market-leading Cisco video technology and integrating with Cisco Spark, Ava transforms the experience of remote collaboration by combining autonomous mobility with high definition video conferencing, enabling users to easily and safely move around a distant location, as if they were physically there. With Ava, productivity is increased, more collaboration takes place and meaningful relationships can be built and maintained, even for team members that are remote.
By employing an autonomous video collaboration robot as an avatar for the remote user and integrating a range of remote applications, Ava allows remote workers to use video to see and be seen while collaborating in environments that would otherwise be difficult or impossible from afar, including event spaces, manufacturing floors, and office hallways.
Ava integrates with Cisco Spark, bringing this new capability into a complete collaboration suite that allows customers to extend Ava to the entire enterprise, and leverage existing investments in collaboration.
"Ava was born from the realization that true connections and trust do not get formed around the conference table, rather during one-on-ones and through everyday work experiences," said Youssef Saleh, Ava Robotics CEO. "We've drawn upon iRobot's 27-year history in robotics innovation to deliver what we call 'practical teleportation', and we are pleased to be part of the Cisco ecosystem in bringing this solution to enterprise customers."
"At Cisco, we believe the future of work is about what we do--not where we are," said Snorre Kjesbu, vice president and general manager for the Cisco Meeting Room Systems Group. "We're passionate about bringing teams together so they can get great work done. Ava's unique blend of autonomous robotics and Cisco's award-winning collaboration portfolio will help teams work better together--no matter where they are."
"Mobile video collaboration solutions such as Ava can have a dramatic impact on improving productivity and collaboration in a geographically diverse global enterprise," said Colin Angle, chairman and CEO of iRobot. "Leveraging a deep technical heritage from iRobot and the strong partnership with Cisco, Ava Robotics is uniquely suited to create an enterprise-grade robotic solution that will deliver on the promise of practical teleportation."
Features and applications:
Ava is ideal when freedom of movement and physical presence are needed to achieve an even more personal degree of remote collaboration. Features and applications include:
Video conferencing: High definition video and audio, end-to-end security for the enterprise, and integrated Cisco Spark video applications.
Immersive experience: As they would if they were physically there, Ava users have the ability to look around, move, and sit or stand. Ava's multiple high definition cameras allow for an experience where the user is actually placed in the remote space.
Mapping: Ava can map its own environment and then use its AI to safely navigate. There is no need to drive the robot or to understand the remote location's layout. When users are done teleporting, Ava returns to its charging station.
Mobility: Using the Ava Robotics App available for Apple iOS and Web browsers, users are able to move about a room and participate in side discussions.
Availability:
Ava Video Collaboration is available now through select Cisco certified channel partners. Learn more at www.avarobotics.com.
About Ava Robotics
Leveraging a deep technical heritage from iRobot, Ava Robotics designs and builds autonomous robots that comfortably coexist with humans in workplaces and other large spaces. Ava Robotics is transforming what it means to collaborate by combining autonomous mobility with high definition video conferencing. Ava Robotics' engineers are developing these products based on what we call "practical teleportation", enabling workers to easily and safely move around a remote location as if they are physically there.
Comments (0)
This post does not have any comments. Be the first to leave a comment below.
---
Post A Comment
You must be logged in before you can post a comment. Login now.
Featured Product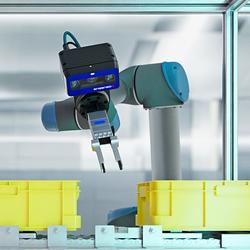 IDS NXT: a platform for a new generation of vision systems for industrial applications. It lays the groundwork to provide easy-to-use yet flexible complete systems that can be used to implement all steps of a vision solution. With IDS NXT ocean, a complete solution especially for AI-based image processing is now available. It allows to solve tasks where classic, rule-based image processing has reached its limits - without any programming effort.