Humanizing Exoskeletons for Soldiers, Workers and Paraplegics
Exoskeletons are making it possible for people with paraplegia to stand up, walk and even climb steps. Like their fabled science fiction counterparts, these exosuits also show promise for granting soldiers and workers superhuman strength. Despite their potential, exoskeletons remain a technology that hasn't quite caught on. The reason may be that most exosystems today are designed without considering the way humans interact with them.
Kevin Duda, an engineer in human systems integration at Draper, calls this design consideration the physical and cognitive fit. He said that while exosystems are generally designed to enhance biomechanical capabilities, like navigating uneven terrain, negotiating stairs and avoiding obstacles, "there are real complexities that arise as the automation creates new cognitive work for the wearer, such as attention, workload and situational awareness."
Duda and colleagues conducted a research study and found that physical and cognitive fit were critical to improving the current approach to designing exosystem technologies. Without the human-system integration, the study found, an exosystem can overtax a wearer's resources. In their research, the team identified seven cognitive factors that point to the need to strike a delicate balance between the exosystem's ability to provide assistance and its need for guidance from the wearer.
The researchers framed the seven factors as questions developers should ask in designing and assessing exosystems. For example, what workload does the user experience when performing the functional task with the system? Does the system require significant attentional resources to interact with or command? Among the most intriguing factors: the more trust a wearer has in the system—that is, the more the system conforms to the expectations of the wearer—the less input the wearer feels they need to provide.
"Our aim is to identify and eliminate the barriers to a viable exoskeleton system and find a balance between the system's sensing, control and actuation," said Duda. "The ability for the exosystem to provide feedback to the human or adapt its response based on inferring the human's intent is important for developing systems for environments of all kinds. The goal for all of us developing wearable assistance technologies is to deliver a high level of human-exosystem fluency."
The journal article "Human Factors Considerations for Enabling Functional Use of Exosystems in Operational Environments" was co-written by Duda, Eric Jones, a human systems architect at Draper, and two members of MIT's Department of Aeronautics and Astronautics: Leia Stirling, an Assistant Professor and Co-director of the MIT Man Vehicle Lab, and Ho Chit Siu, a research assistant at the MIT Man Vehicle Lab. The article is scheduled for publication later this year in IEEE Systems Journal.
Jones and Stirling explored this topic further in their paper "The Effect of a Powered Lower-Body Exoskeleton on Physical and Cognitive Warfighter Performance," co-written with Draper Fellow and MIT graduate student Blake Bequette and Adam Norton of the University of Massachusetts Lowell's New England Robotics Validation and Experimentation (NERVE) Center. The paper has been accepted for the 2018 annual meeting of the Human Factors and Ergonomics Society.
Creating human-centered solutions is one of Draper's key capabilities. Draper technologies have aided soldiers in accurately landing parachutes and safely airdropping supplies into conflict zones. The current work in exosystem technologies is designed to support the increased demands faced by warfighters and to advance soldier technology in the next decade.
Draper
At Draper, we believe exciting things happen when new capabilities are imagined and created. Whether formulating a concept and developing each component to achieve a field-ready prototype or combining existing technologies in new ways, Draper engineers apply multidisciplinary approaches that deliver new capabilities to customers. As a not-for-profit research and development company, Draper focuses on the design, development and deployment of advanced technological solutions for the world's most challenging and important problems. We provide engineering solutions directly to government, industry and academia; work on teams as prime contractor or subcontractor; and participate as a collaborator in consortia. We provide unbiased assessments of technology or systems designed or recommended by other organizations—custom designed, as well as commercial-off-the-shelf.
Comments (0)
This post does not have any comments. Be the first to leave a comment below.
---
Post A Comment
You must be logged in before you can post a comment. Login now.
Featured Product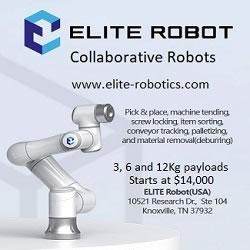 ELITE ROBOT lightweight 6-axis collaborative robots have payloads of (3kg, 6kg, and 12kg cobots). ELITE ROBOT cobots have gained a positive reputation among users in the Automotive, Electronics, Packaging Logistics, Metal Processing, Rubber & Plastics, chemicals, and other industries. The EC series robots start at $14,000 USD making it one of the fastest ROI in the industry. The EC robots come complete with 6 DOF arm, control box, teach pendant and software.