RIA to Present Gudrun Litzenberger and Esben Østergaard with Engelberger Robotics Awards
Today the Robotic Industries Association (RIA), the industry's trade organization, announced the winners of the 2018 Engelberger Robotics Awards, the world's most prestigious robotics honor. The 2018 awards will be presented to Gudrun Litzenberger, the General Secretary of the International Federation of Robotics (IFR), and Esben Østergaard, CTO and Cofounder of Universal Robots. Litzenberger and Østergaard will be honored at a special ceremony on June 20 in conjunction with Automatica and the International Symposium on Robotics, held June 19-22 in Munich, Germany.
The award is named for Joseph F. Engelberger, known throughout the world as the "father of robotics." Engelberger was founder and president of Unimation, Inc., the world's first industrial robot manufacturer. The Engelberger Robotics awards are presented to individuals for excellence in technology development, application, education and leadership in the robotics industry. Each winner receives a $5,000 honorarium and commemorative medallion with the inscription, "Contributing to the advancement of the science of robotics in the service of mankind."
The awards recognize outstanding individuals from all over the world. Since the award's inception in 1977, it has been bestowed upon 126 robotics leaders from 17 different nations. This year the awards will be presented in the categories of leadership and technology.
The Engelberger Robotics Award for Leadership is awarded to Gudrun Litzenberger.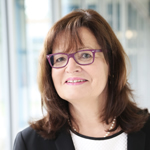 "Gudrun Litzenberger has spent much of her career helping our industry better understand the size and scope of the global robotics market," said Jeff Burnstein, RIA president. "Her work has established the IFR as the leading source of global robotics statistics during an era when the interest in robotics is growing exponentially. Furthermore, Gudrun has been a tireless advocate for our industry throughout the world."
---
The Engelberger Robotics Award for Technology is awarded to Esben Østergaard.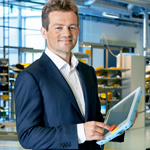 "Esben Østergaard's work in the field of collaborative robot applications has allowed robots to enter previously unthinkable sectors in just about every industry," added Burnstein. "His emphasis on robots that work side by side with people has created enormous interest among many small and medium sized companies who never even considered robots before. In a world that is increasingly characterized by people and robots working together, Esben's pioneering technology advances play a pivotal role."
2018 Engelberger Award Winners
Gudrun Litzenberger joined the German Mechanical Engineering Industry Association (VDMA) in 1986. In 2002 she transitioned to the VDMA Robotics+Automation Association where she took responsibility for statistics in the fields of robotics, assembly technology and machine vision. After the foundation of the IFR Statistical Department in 2003, Litzenberger assumed responsibility for the World Robotics Statistics from the United Nations Economic Commission for Europe (UNECE) and compiled the annual study World Robotics from 2005. Over the years, World Robotics has developed into the international benchmark for global robot statistics covering all relevant market related activities of industrial and service robots. In 2008, Litzenberger was appointed General Secretary of the IFR. The IFR connects the world of robotics around the globe and now represents over fifty members from more than twenty countries.
Esben H. Østergaard is Chief Technology Officer at Universal Robots, one of the inventors behind the UR cobots, and is responsible for the enhancement of existing UR cobots and the development of new products. During his years as researcher and assistant professor in robotics and user interfaces at University of Southern Denmark, he created the foundation for a reinvention of the industrial robot. In 2005, this led him to found Universal Robots together with two of his research colleagues. Besides his work as CTO Østergaard is participating in national research projects and he is also an external examiner at several universities in Denmark. Earlier in his career, he worked as a research scientist at USC Robotics Labs in Southern California and also at AIST in Tokyo as a visiting researcher.
2018 Joseph F. Engelberger Robotics Award Dinner
The Engelberger Awards Ceremony will be held at 6:30pm on Wednesday, June 20, 2018 at the Hofbräuhaus in Munich, Germany as part of the International Symposium on Robotics. Tickets can be purchased for the event by visiting the RIA website's Engelberger section.
The RIA is a member organization of the Association for Advancing Automation (A3). More information on the Robotic Industries Association may be found at Robotics Online.
About Robotic Industries Association (RIA)
Founded in 1974, RIA is a not-for-profit trade association driving innovation, growth, and safety in manufacturing and service industries through education, promotion, and advancement of robotics, related automation technologies, and companies delivering integrated solutions. RIA represents some 475 robot manufacturers, system integrators, component suppliers, end users, consulting firms, research groups, and educational institutions. The association hosts a number of educational events including the International Robot Safety Conference (October 9-11, 2018 in Detroit), the Collaborative Robots, Advanced Vision & AI Conference (October 24-25, 2018 in Santa Clara, CA), the A3 Business Forum (January 14-16, 2019 in Orlando) and the biennial Automate Show & Conference (April 8-11, 2019 in Chicago). RIA also provides quarterly robotics statistics and has a content-rich website, Robotics Online. For more details on RIA, visit Robotics Online or call 734/994-6088.
Comments (0)
This post does not have any comments. Be the first to leave a comment below.
---
Post A Comment
You must be logged in before you can post a comment. Login now.
Featured Product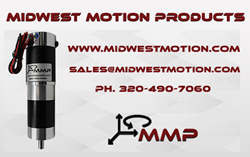 MMP specializes in supplying high-quality Brushed & Brushless DC Motors & Gearmotors for Robotics and Automation Equipment with a wide range of motor windings and gear ratios. With an impressive track record of more than 8,000 released DC Gearmotors designs and over 2,000,000 individual part numbers, we are renowned for our ability to handle large-scale orders. Due to our huge on-hand inventory, we are also well known for lightning-fast delivery of our standard products. We take pride in our dedicated customer service and our team of knowledgeable sales and engineering experts who are ready to assist you with custom design solutions tailored to your specific application. Additionally, we also offer a wide range of complimentary products, such as DC Motor Controls, DC Linear Actuators, AC-DC power Supplies, and DC Servo Amplifiers and others.