Festo Underwater robot with unique fin drive
The marine planarian, cuttlefish and Nile perch have one thing in common: in order to propel themselves, they use their fins to generate a continuous wave, which advances along their entire length. With this so-called undulating fin movement, the BionicFinWave also manoeuvres through a pipe system made of acrylic glass. At the same time the autonomous underwater robot is able to communicate with the outside world wirelessly and transmit data – such as the recorded sensor values for temperature and pressure – to a tablet.
The fins on the natural role models run from head to tail and are located either on the back, the stomach or on both sides of the body. The wave-shaped movement of the fins allows the fish to push the water behind them, thereby creating a forward thrust. Conversely the creatures can also swim backwards in this way and, depending on the wave pattern, create uplift, downforce or even lateral thrust.
Flexible silicone fins for natural swimming manoeuvres
The BionicFinWave uses its two side fins to move along. They are completely cast from silicone and do without struts or other support elements. This makes them extremely flexible and thus able to implement the fluid wave movements of their biological role models true to nature.
For this purpose, the two fins on the left and right are each fastened to nine small lever arms. These in turn are driven by two servo motors located in the body of the underwater robot. Two attached crankshafts transfer the force to the levers in such a way that the two fins can move individually. They can thereby generate different wave patterns, which are particularly suitable for a slow and precise movement and whirl up water less than a conventional screw drive does, for example. Full Article from Festo:
Comments (0)
This post does not have any comments. Be the first to leave a comment below.
---
Post A Comment
You must be logged in before you can post a comment. Login now.
Featured Product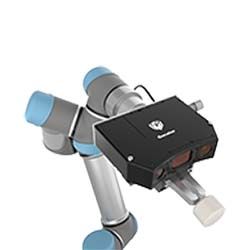 The Gocator 2000 family of laser displacement sensors makes 3D measurement a snap to setup and operate. These class of sensors deliver flexibility, performance, and immediate value right out of the box. Every Gocator comes with a built-in web application to deliver an exceptional user experience - no additional software required. Go from the simplified connection, to configuration, to measurement within minutes! Almost immediately you will be able to measure 3D features like width, thickness, and angle in order to precisely monitor your production. With a variety of standoff and measurement ranges, there's a Gocator sensor to fit almost every application. Your experience with displacement sensors will never be the same again.