First fully automated reception desk in Poland works in Opole
First fully automated desk operated by robot was created in Opole. This step will revolutionize customer service market. In Weegree company the unassisted robot handles the reception desk: it welcomes and says goodbye to visitors, answers their questions and directs them to appropriate rooms. However, these aren't his only skills.
How does it work?
The software was created as a solution for companies, hotels, hospitals and all facilities that handle personal customer service. Robot-the receptionist welcomes and says goodbye to customers, provides all essential information, directs to correct rooms but also makes phone calls, sends text messages and prepares coffee. All of that is possible thanks to integrated 3D cameras and advanced image processing module using deep neuron networks. The software recognizes and memorizes visitors, understands their expectations and reactions, profoundly answers their questions. The conversation with a person is possible due to specialistic speech analysis modules and build-in knowledge base. In case the required information isn't included in the knowledge base, robot contacts employees and then passes data to the customer. It works in similar way during meetings – robot, as a professional receptionist, calls the rights person and confirms that the guest arrived and is waiting for the meeting. These, however, aren't only advantages of automated receptionists. The platform enables for example integration with coffee machine or dispenser of magnetic cards for hotel guests. It also memorizes visitors' choices thanks to which the robot is able to propose the same drink next time the guest visits the hotel.
Constant development
Autonomic reception desk evolves continuously just like humans do. Every problematic case is saved and later analyzed by administrator and adequately validated. If there is such need, a person can be included in the customer service process, but the robot still remembers all actions so that he can handle similar case independently in the future.
Advantages
Weegree's software is a fair time and money saving, but also a huge step towards efficient, fully automated, but at the same time personalized customer service. Due to the fact that the use of robots in services sector is minor, their purchase allows companies to overtake their competitors very quickly. Robots can be easily used in hotels, hospitals, banks and many other facilities in which customers need fast and profound help and information. A robot with a dedicated software, working at the reception desk makes a huge impression on customers. He's professional, flexible and helpful, moreover, he's always smiling. Those who are interested in first fully automated reception desk can see it for themselves in Weegree office in Opole, Krakowska street, Poland.
Comments (0)
This post does not have any comments. Be the first to leave a comment below.
---
Post A Comment
You must be logged in before you can post a comment. Login now.
Featured Product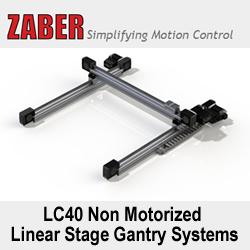 A Zaber gantry kit comes with everything you need to build a customized XY gantry system or XYZ gantry system. These gantry systems feature coordinated multi-axis motion, plug-and-play operation, easy integration with end-effector options, and built-in IO and E-Stop capabilities. An intuitive ASCII interface allows the user to easily communicate with the gantry systems using our free software, either Zaber Motion Library with APIs for several popular languages or Zaber Console. Third party terminal programs that can communicate over a serial port can also be used.