Automate Announces 2019 Launch Pad Startup Competition Finalists
Automate today announced the seven finalists in the Automate Launch Pad Startup Competition. Co-produced with MassRobotics, the competition gives the industry's most innovative young companies in robotics, machine vision and motion control the chance to vie for a $10,000 cash award and the spotlight at the Automate 2019 Show and Conference—North America's largest showcase devoted to automation industry trends, leading-edge technology and business innovation, taking place April 8-11 in Chicago, Illinois.
On April 10 at 3 p.m. in the "Win the Future" theater, the seven finalists will have five minutes to pitch their technology solution to a panel of judges comprised of industry leaders and investors. Past winners include Apellix (2017) for its software-controlled aerial robotics and Soft Robotics (2015) for its innovative gripping solution.
"While there can only be one winner, we expect to see the innovations from all seven finalists playing an instrumental role in transforming the manufacturing and service sectors over the next decade," said Jeff Burnstein, president of the Association for Advancing Automation (A3), which organizes Automate. "This competition lets us identify and support the best of the best, getting them in front of industry leaders, potential partners and customers as well as investors to help them through each stage of their business. We're thrilled to see where these new technologies will take us."

Automate Launch Pad Competition Finalists
Firefly Dimension Inc. (Booth 9639) - Firefly is dedicated to developing the largest field-of-view, standalone, and the most cost-effective Augmented Reality (AR) headsets for industrial applications.
Innovative Mechatronic Systems B.V. (Booth 9641) - IM Systems developed the Archimedes Drive, a toothless gearbox with speed reducer technology, that brings groundbreaking improvements in performance compared to current drive solutions.
Realtime Robotics (Booth 9649) - Realtime Robotics works with customers to create highly adaptable robotic systems for application to the vast majority of industrial tasks in dynamic environments, as well as to enable autonomous driving platforms to achieve superior safety at normal driving speeds, even in complex urban driving environments.
Southie Autonomy (Booth 9367) - Southie Autonomy builds intelligent robot software that enables any industrial robot to be re-purposed and re-deployed by any person, without robotics expertise or even computer skills.
Ubiros (Booth 9643) - Ubiros builds soft robot hands that conform to the shape of objects to avoid damaging or bruising fragile objects.
WiBotic, Inc. (Booth 9645) - WiBotic provides wireless charging and power optimization solutions with its patented Adaptive Matching technology built into every system, improving upon established methods for magnetic resonance and inductive power transfer, to provide the power levels and increased antenna range drones and robots demand.
Wilder Systems (Booth 9647) - Wilder Systems is expanding the range of feasible robotic applications by introducing collaborative, multi-functional robots into aerospace manufacturing.
Win the Future Theater Fireside Chats and Sessions of Note
Prior to the competition on April 10, those attending the show can attend a fireside chat, "Investing in Automation." In the theater at 1 p.m., Oliver Mitchell, founding partner at Autonomy Ventures and one of the judges of the competition, will talk with Daniel Theobald, co-founder and chief innovation officer at Vecna Robotics, about what investors are looking for when considering investing in automation and robotics companies. This discussion will be followed by a session on the Robotics Cluster in Boston at 1:45 p.m., where representatives from the area will discuss robotics and automation advances and activities happening in the region. A similar discussion on the Robotics Cluster in Pittsburgh will take place April 9 at 2 p.m.
Attendees registering for both the show and conference get free access to the show floor, including these sessions.
About Association for Advancing Automation (A3)
The Association for Advancing Automation is the global advocate for the benefits of automating. A3 promotes automation technologies and ideas that transform the way business is done. A3 is the umbrella group for Robotic Industries Association (RIA), AIA - Advancing Vision + Imaging, Motion Control & Motor Association (MCMA) and A3 Mexico. RIA, AIA, MCMA and A3 Mexico combined represent over 1,200 automation manufacturers, component suppliers, system integrators, end users, research groups and consulting firms from throughout the world that drive automation forward. For more information, visit: A3, RIA, AIA, MCMA, A3 Mexico.
Comments (0)
This post does not have any comments. Be the first to leave a comment below.
---
Post A Comment
You must be logged in before you can post a comment. Login now.
Featured Product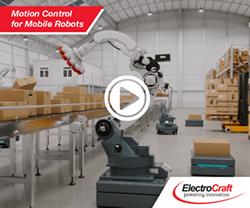 ElectroCraft is showcasing its award-winning mobile robot technology including their powerful and compact wheel drives, high-torque-density brushless DC motors, precision linear actuators as well as servo motor drive technology at a variety of conferences and tradeshows including the Boston Robotics Summit. Robotics Summit is the premier symposium for the sharing of ideas, technology, and market developments for robotic technologies across industries. Beyond a showcase and pitch of product, ElectroCraft is eager to participate in the collaborative discussion of challenges and opportunities that will shape the near and long-term robotic marketplace.