Sensors Expo & Conference Reveals "Best of Sensors" 2019 Award Winners
Sensors Expo & Conference (#Sensors19), the industry's premier event dedicated to sensors, connectivity, and IoT, today announced the winners of the 2019 Best of Sensors Awards. Created to spotlight the advances in both innovations and real-world applications of sensors, the prestigious awards were presented by Event Director, Cal Groton, during Sensors Expo & Conference 2019 held this week in San Jose, California.
2019 Innovative Product of the Year Award Winners include:
AI/AR/VR: TDK - Invensense – SonicTrack
Automation: Balluff –SmartLight Indicator
Automotive/Autonomous: Laser Components USA, Inc. – QuickSwitch Pulsed Laser Diode (PLD)
Chemical & Gas: Sensirion AG – SCD40 CO2, Humidity and Temperature Sensor
Data Acquisition & Analytics: Technologic Systems – TS-MINI-ADC
IIoT: Lantronix – XPort® EDGE IoT Gateway
IoT & Wireless: OptConnect – OptConnect ema™
Medical: Silicon Microstructures, Inc. – IntraSense 60601
MEMS: Vesper – VM2020
Optical/Cameras: ams – TMF8701 1D Time-of-Flight Sensor
Process Manufacturing: Control Systems Technology Pty Ltd. – IntelliRoll
Smart Cities: Kaiterra – Sensedge
Temperature: Melexis – MLX90632 Medical Grade Temperature Sensor
Wearables: Maxim Integrated – Health Sensor Platform 2.0
Additional Best of Sensors Award Winners include:
Startup of the Year – Atmosphere IoT
Company of the Year – TDK
Engineering Team of the Year – ams' Mario Manninger, Stefan Dineci, Bernd Janger, and Dr. Markus Noren
Rising Star – Dr. Steven Chunxi Qiu, RoboSense
Woman of the Year – Dr. Susan Schober, Circuit Seed
"Year in and year out Sensors Expo brings together the most exciting technological advancements and cutting-edge applications from across the industry. The winners of this year's Best of Sensors Awards underscore the wide impact these innovations are having and will continue to have on nearly every facet of business, government, and consumer life. We are thrilled to recognize these companies and individuals for their commitment to engineering excellence and overall ingenuity," noted Groton.
To learn more about the speakers, innovators, and technologies featured at the event, visit http://www.sensorsexpo.com.
About Sensors Expo & Conference
Sensors Expo & Conference is widely known as one of the world's largest and most important gatherings of engineers and scientists involved in the development and deployment of sensor systems. For more information, visit http://www.sensorsexpo.com. Sensors Expo & Conference is produced and managed by Questex.
About Questex
At Questex, we are passionate about driving business outcomes. We connect buyers and sellers and help both achieve their goals. We are online, on devices and live with experiential engagements. We understand the buyer's behavior and evolving needs and connect them with the seller through continual touchpoints. From discovery through purchase and purchase through advocacy, we supply unmatched access, insight, engagement and turnkey solutions all in one place.
Comments (0)
This post does not have any comments. Be the first to leave a comment below.
---
Post A Comment
You must be logged in before you can post a comment. Login now.
Featured Product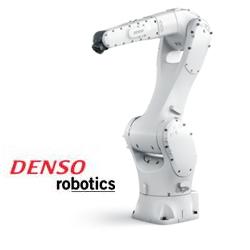 The new VMB series represent some of the newest members to our 6-axis family of robots. These high-performance, versatile units offer a longer arm reach and a higher load capacity than traditional models which make VMB an excellent solution for palletizing, packaging, and material handling. New features include greater air piping, valve and signal line options, as well as new programming options with state-of-the-art functions using our new WINCAPS Plus software. VMB offers an IP67 protection grade along with meeting ISO Class 5, which makes them suitable for electric parts, food manufacturing processes, and pharmaceutical and medical devices. With the addition of the new VMB large robots, all manufacturing processes can now be automated by DENSO Robotics.