World's first haptic telerobot hand (Tactile Telerobot) to officially launch at first public event at CEATEC 2019 in Japan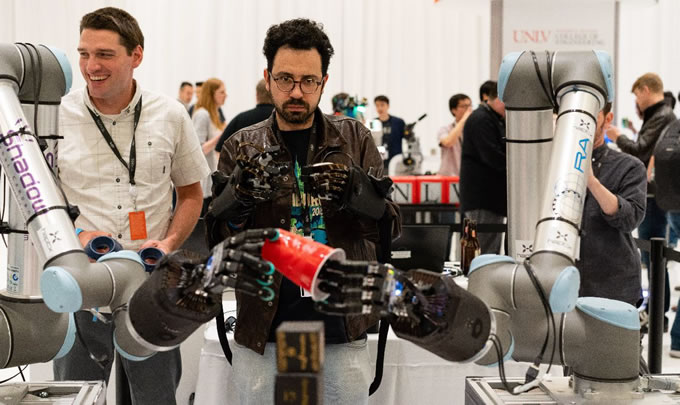 After the success of the Tactile Telerobot at reMars back in June 2019 where it was described as "the tactile feedback is really tremendous" by Amazon's CEO, Jeff Bezos, the groundbreaking technology returns from a working demo to an official product launch at the Combined Exhibition of Advanced Technologies (CEATEC) event in Japan. The grand expo running from 0ct. 15-18 has free admission (visitors are required register) and will be the first chance for the public to see the Tactile Telerobot first-hand as part of the Society 5.0 TOWN booth following the exhibits' futuristic theme of "A City in 2030."
Shadow Robot Company (world's most advanced dexterous robotic hands), SynTouch (for biomimetic tactile sensors) and HaptX (realistic haptic feedback gloves) along with ANA HOLDINGS (funders and facilitators of the technology) will attend CEATEC to give the fully developed Tactile Telerobot a unique unveiling. The exhibit will be divided into several scenario-based themes, each demonstrating a distinctive way to implement the technology. There will be scenarios for the use of robots in a kitchen, school, fish market, living room, laboratory and skill sharing. See "Supporting Material" for more details.
The Tactile Telerobot fits into ANA's AVATAR vision to help connect humanity across vast distances. Attendees will be able to interact with the live robots in an organic and natural way and experience realistic touch feedback and high dexterity of the system.
The Tactile Telerobot also uses the extremely versatile collaborative robot (cobot) UR10 from Universal Robots (UR). The company is experiencing an interest in next-generation robotic arms outside of manufacturing and the Tactile Telerobot is enabled by the collaborative capabilities of UR's hardware, allowing the robot arm development of the system to be fast, flexible and fit for purposes.
At a time where the UK and Japan have already committed to seeking an economic partnership which is just as ambitious and mutually beneficial as the existing economic partnership: EU-Japan Economic Partnership Agreement (EPA), the Shadow Robot Company are helping to bridge the gap between the two nations by showcasing the best of British technology on a Japanese corporate stand.
Rich Walker, Managing Director of the Shadow Robot Company says, "Japan is a key target market for us, there is a solid business culture and the country has great respect for investing in cutting-edge technology such as that used in our products. It's the perfect place to officially launch our Tactile Telerobot."
Dr. Jeremy Fishel, Co-Founder of SynTouch says, "The sense of touch in remote technology is invaluable. It enables for more accuracy and precision. People will see just how revolutionary our Tactile Telerobot really is as a multi-sector tool."
Jake Rubin, Founder and CEO of HaptX says, "When HaptX Gloves converge with Shadow's Hands and SynTouch's BioTacs, the whole is greater than the sum of its parts. The Tactile Telerobot literally extends the reach of humankind, enabling a form of human-machine interaction that was previously limited to the realm of science fiction."
"ANA HD has always been committed to connecting people, not just connecting passengers to their destinations but also to connect cultures and ideas. AVATAR has the potential to do this like no technology we've ever seen before," said Shinya Katanozaka, President and CEO of ANA HD Andrew Pether, Global Application Management at Universal Robots says, "We're excited to be a part of this cutting-edge teleoperation system which, like our cobots, changes how we work and live around the globe."
Comments (0)
This post does not have any comments. Be the first to leave a comment below.
---
Post A Comment
You must be logged in before you can post a comment. Login now.
Featured Product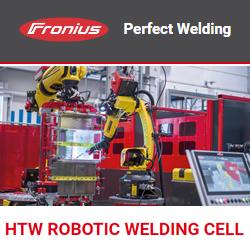 Modular, collaborative, and flexible: the "Handling-to-Welding" robotic welding cell joins parts of different geometries and materials. The task is carried out by two robots - the handling robot positions the workpieces, the second robot performs the welding. Depending on the cell configuration, lock gates are available for the inward and outward transport of parts. Furthermore, various positioners, a TCP measurement system, a torch cleaning system, a gripper station, and a contact tip change system are also possible.