Automation Technology Expo (ATX) West and Design & Manufacturing (D&M) Pacific to Showcase Latest Innovations Highlighting the Future of Factory 4.0
Industry 4.0, commonly referred to as the fourth industrial revolution, is set to change the face of advanced manufacturing as we know it. In fact, recent figures from KPMG International estimates the component markets of Industry 4.0 may amount to more than $4 trillion by 2020. Two industries supplying these in-demand components and driving the technology behind it include automation and design engineering. Taking place February 11 - 13, 2020 at the Anaheim Convention Center in Anaheim, CA--both Automation Technology Expo (ATX) West and Pacific Design & Manufacturing (D&M), will feature an extensive expo showcase and conference highlighting and speaking to the future of Industry 4.0. ATX West will primarily feature the latest in automation and robotic technology including robotic accessories, motion control, and automation software, while Pacific D&M will feature components needed in assembly, injection molding, rapid prototyping, 3D printing and additive manufacturing, and contract design and manufacturing.
A Q&A with Suzanne Deffree, Brand Director of Pacific Design & Manufacturing and Steve Everly, Brand Director of Automation Technology Expo West
Who should attend the shows?
SD: Pacific D&M is for anyone who is interested in learning more about design services and technologies as we have a lot of great companies and conference speakers that are bringing out their latest in 3D printing, injection molding, rapid prototyping, and more. Also, I can't underscore the valuable networking opportunities at the show for all levels even if you're a C-level executive or an early-stage engineer.
SE: ATX West is a must attend event for those looking to implement automation within their company. Our exhibitors will be displaying and demoing the latest automated technologies across all types of categories, including medical devices, aerospace and defense, consumer electronics, automotive, and more. So, whether you're a design engineer, a C-suite executive in manufacturing, operations personnel, or any other type of professional looking for solutions to streamline operations, ATX West is where you will make connections and receive technical education and expert advice to move your projects and business forward.
What companies should attendees check out when at the show?
SD: What we're proud of at Pacific D&M is our returning exhibitors that bring their latest technology and services in design each year. So, I recommend attendees take advantage of the entire three days while at the show to truly grasp all this innovation that is shaping manufacturing processes today. Some interesting exhibitors to check out would be Altech Corp, Flow International, Formlabs, and Stratasys, to name a few.
SE: ATX West is ideal for live onsite demonstrations of new robotics and automation technology. Many of the leading robotics companies such as Epson Robots, ATS Automation, Universal Robots, and more will be showcasing their advancements in robotic technology. Attendees can expect to see the latest in motion control, motors, drives, sensors, and much more.
What are the industry trends and main focus areas and topics that will be discussed?
SD: The advent of 3D printing as an aspect of additive manufacturing is here with the market expected to be worth $34.8 billion by 2024. This year, a major topic and trend at Pacific D&M will be spotlighting 3D printing's immense value in the manufacturing process apart from basic prototyping as 3D printing technology can majorly influence manufacturing processes to perform at a higher and faster performance. This year, we're featuring an entire 3D Printing Innovation Summit dedicated to 3D printing material, innovation, and adoption.
SE: The undeniable trend of robotics and automation technologies for the factory floor is a large area of emphasis attendees will see at the show this year. Many of our exhibiting companies will be featuring robotics built to work in a manufacturing plant for a variety of industries. There will be pick-and-place robots, cobots, and more technology implementations driving them to be smarter such as artificial intelligence (AI) at ATX West.
For more information on ATX West and Pacific D&M and to register to attend, visit: https://pacdesignshow.designnews.com/.
Comments (0)
This post does not have any comments. Be the first to leave a comment below.
---
Post A Comment
You must be logged in before you can post a comment. Login now.
Featured Product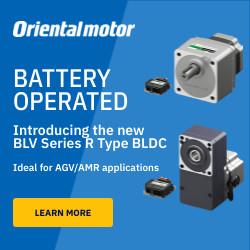 The BLV Series R Type brushless DC motor (BLDC motor) speed control system offers the design of motor and driver significantly reduced in size and weight, yet high-power, and contributes to the battery driven automation. The BLV Series R Type is compatible with the two interfaces of Modbus (RTU) and CANopen communication.