Exoskeletons and Exo-suits: Exploring the Scope of Wearable Robots
Author: Dernol provides reviews and product comparisons of electronic gadgets and other technological innovations, including applications and software.
Wearable robots, as the name suggests, are wearable artificial devices or rather systems, that are designed with parts and joints that mimic the human movement pattern. They are meant to assist human movement, and additionally, they facilitate telepresence and teleoperation and therefore is of immense use in rehabilitation and physiotherapy training. Engineered around the function and shape of the human form, exoskeletons, particularly, are gaining much attention from the scientific community worldwide.
Research and discussions are still underway regarding the potentialities of this technology; However, studies in the field of wearable robots are opening up innumerable possibilities of telepresence and telemanipulation that could change the degree and nature of functionality and productivity in humans. In this article, Dernol explores the concept of wearable robots and the application of this mechatronic system, especially in the fields of medicine, industrial manufacturing, and military.
Exo-suits, unlike elaborate, hard-bodied exoskeletons, are soft and garment-like and, therefore, easier to wear. Many robotics companies have experimented with prototypes of exo-suits that could assist mobility and improve efficiency. ReWork, for example, makes different variants of exo-suits depending on the assistance required; mostly, they are all intended to enable hip and knee movement and thereby assist in walking, turning, and climbing stairs, among others. Exo-suits score high in terms of being lightweight, since weight is an essential factor determining functionality in this case. This is a prominent field of research for students of many notable universities; ETH Zürich, for example, developed MAXX (Mobility Assisting teXtile eXoskeleton), and MyoShirt, both lightweight, flexible multi-functional exo-suits that serve to assist movement. Hokoma's Locomat is another noteworthy example. Similarly, Kinetic Wearable Robotics specializes in robotic exoskeletons that facilitate neuromotor rehabilitation for the upper limb.
In 2018, the U.S. Army was reported to have invested millions in exoskeleton technology employing artificial intelligence, sensors, and other such technologies to produce advanced gear for soldiers that could render them stronger and sturdier. Tests showed that in military applications, particularly, exoskeletons could reduce the physical load that soldiers would otherwise have to carry as part of their gear. Therefore, future military operations could witness "super-soldiers" who are far more resilient and better equipped for adversities.
In addition, power exoskeletons may be utilized in factories and industries where the workers engage in lifting/carrying heavy materials on a routine basis. Many industrial operations involve tricky movements and functions which demand human workers to maneuver and adjust according to the required operation. In such industrial applications where automation is not feasible, exoskeletons empower workers to perform tasks more efficiently and effortlessly using the specially-engineered power suits. They can also reduce the chances of musculoskeletal disorders by a significant margin. Ever since GE's Hardiman, the first prototype of exoskeletons for industrial use, a lot has transpired in this field. Today, many more players are in the market like Ekso Bionics and SuitX, each of them trying to develop and modify the existing designs to make them more user-friendly and functional for a broader range of users.
Better and refined versions of this technology are surfacing every passing day; today, even mind-controlled exoskeletons are available, which were unimaginable until a few years back. Studies have suggested that, in the future, humanoid robotic technologies and exoskeletons may present possibilities for humans to function even in unstructured environments, such as the deep sea and outer space for construction, mining, etc. Considering that exoskeletons mimic the natural gait pattern of the human legs, they aid in gait rehabilitation. They promise more options of mobility for the differently-abled, in terms of assisting impaired motor control and for those afflicted with injuries such as spinal cord injuries (SPI) that completely restrict movement.
Comments (0)
This post does not have any comments. Be the first to leave a comment below.
---
Post A Comment
You must be logged in before you can post a comment. Login now.
Featured Product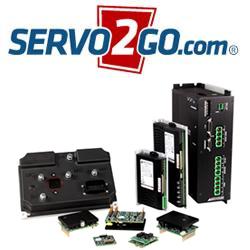 Engineered to drive brushless and brush servomotors in torque, velocity or position mode, Servo2Go.com offers a broad selection of servo drives in a wide range of input voltages and output power levels.