Mobile Robotics to Drastically Change the Traditional Use of Automation and Robotics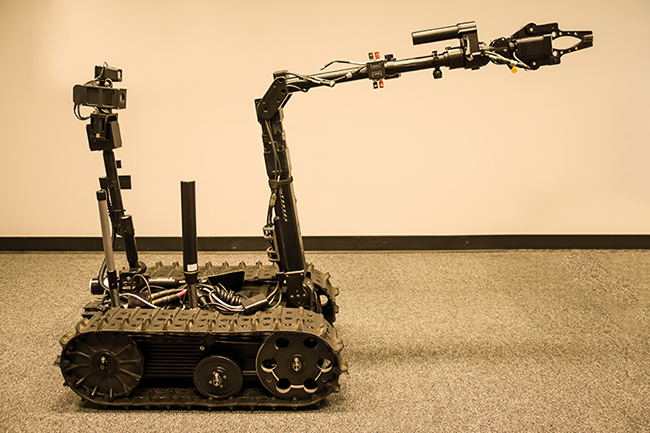 Over the period of time we have strived to upgrade technologies in order to make our lifestyle more comfortable. We have introduced automation and robotics in order to reduce the manual labor required in manufacturing and production industries. Mobile robotics is one such application of robotics that develops movable robots around freely in a physical environment. These mobile robots are generally controlled with the help of software or by integrating sensors and relay circuits in the robots. These sensors can be used in identifying the surrounding environment of the robots and send information to the internal circuits. These circuits can then be programmed to give suitable responses with respect to the surrounding. These robots are a complex integration of physical robotics and artificial intelligence (AI) that helps the robots to freely navigate their surroundings. Mobile robots with the help of AI can now flawlessly work on any environment like air, underwater, or land and have gained absolute mobility even under extreme conditions. This has helped the production and manufacturing industries to reduce the human interaction at hazardous sites ensuring the safety of humans. Furthermore, the sensors in these mobile robots have significantly increased the perception ability and adapting to the environment accordingly.
Several manufacturers and developers use the references of movies and science fiction to develop these mobile robots, making fiction into reality. There are several mobile robots that are available in the market that would help enterprises and companies to optimize their daily duties. Some of them are as follows­
OTTO Motors OMEGA Lift Truck
OTTO Motors are one of the many vendors that manufacture self-driving automobiles. It uses high-end programming and control system in order to enable material handling efficiently. The mobile lines of OTTO Motors are highly recommended for industrial environment spanning automotive, aerospace, medical device, and logistics. They manufacture self-driving fork-lift trucks that feature top rated safety protocols, ensuring safe work environment in the industry.
Recently MiR has announced its new launch of 500 Mobile robot which features 500kg payload capability with expanded handle for wide variety of payloads. They have also launched smaller versions of itself, MiR 200 which has onboard UR5 collaborative robot. This robot features a collaborative arm that help to reposition the load effectively while operating throughout the facility. The similar version of mobile robot also features MiRHook that can be helped to tow a load of roughly up to 500kg.
KUKA Robotics mobile robot and arm
KUKA is one of many successful industrial robot manufacturers. It has recently launched its KUKA KMP 1500 mobile platform. The enticing feature of this platform is that it has a mobile robot arm connected to the platform. Furthermore, its KMR iiwa robot is integrated with the company's LBR iiwa robot. This offers flexibility along with mobility to the robot. This mobile robot has immaculate programming and features accuracy of up to 5mm. In order to enhance its mobility, the robot is upgraded with Mecanum wheels. These wheels offer maximum agility thus enabling the mobile platform to be omnidirectional. The platform can rotate 360 degrees freely and can easily work in compact spaces.
With the emergence of these optimized mobile robots, our life has significantly influenced. Through ages we have accepted technologies and machines in our daily lifestyle. From using a toaster to toast bread to setting a manufacturing automated line to make bread, we have developed along the way. Robots are technically devices that work automatically when triggered or given the command to do so. All the devices that we are surrounded with such as phone, television, internet, etc. are designed to convey information or data to the user whenever the user commands the device. But as we are developing, the integration of AI with robotics will remove the point of contact with the user and the device. With efficient programming robots could be designed to do several tasks without giving any command. At present we are using devices and electronics to reach the niches of the world, but it won't be for long that these mobile robots would bring the whole world to you. When developers achieve in making these innovations, our lifestyle will change significantly and these technologies would not be restricted to just amusements or entertainment, but can be use for a wide range of utilities.
Several companies have recognized the importance of mobile robotics and the usage of artificial intelligence. This has given rise to several programmers and developers to come up with innovative ideas that would make reforms to the mobile robotics. This has significantly helped the growth of the mobile robotics market. After a detailed analysis, Allied Market Research have determined that global mobile robotics market would garner $39.58 billion by 2026, registering a CAGR of 21.5% from 2019 to 2026. Several companies are trying to make reforms in order to introduce mobile robotics in the consumer market. There are several stationary AI robots such as Alexa that a consumer uses, but it won't be long for mobile robots to one day make debut in the consumer section. With the growth of mobile robotics market and new technologies continuously being introduced to the market, the future is here.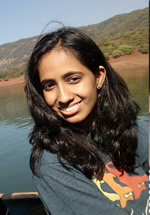 Written by Swamini Kulkarni:
Swamini Kulkarni holds a bachelor's degree in Instrumentation and control engineering from Pune University, and works as a content writer at Progressive Markets. She is deeply fascinated by the impact of technology on human life, and loves to talk about science and mythology. When she is not glued to the computer, she loves to read, travel, and day dream about her areas of interest.
Comments (0)
This post does not have any comments. Be the first to leave a comment below.
---
Post A Comment
You must be logged in before you can post a comment. Login now.
Featured Product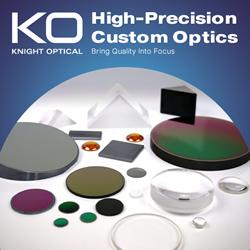 In the era of Industry 4.0, automation and machine learning drive the future. Knight Optical stands at the forefront, collaborating globally to supply precision optical components that power the robotics and automation sector. From UAVs, drones, and robotics to machine vision, LiDAR-driven car sensors, and renewable energy, our optics empower innovation. Optical components play an important role within the industry, including: Optical windows and domes safeguard systems in unmanned vehicles while preserving the field of view for cameras. Infrared lenses with aspheric surfaces elevate thermal imaging. Optical filters excel in machine vision, with colour glass, interference, and dichroic filters in our stock. Knight Optical provides stock components and custom solutions made to your exact specs. With every component undergoing rigorous metrology and QA checks before shipment, you are sure to experience true precision, innovation, and assurance.