MODEX-The Biggest Manufacturing and Supply Chain Expo of 2020 is Coming to Atlanta March 9-12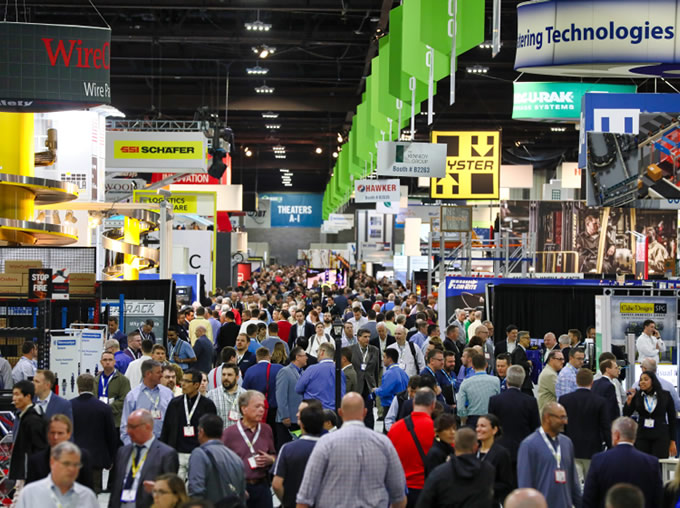 When the largest manufacturing and supply chain expo of 2020, MODEX, opens on March 9 it will include 950 exhibits from leading solution providers and a comprehensive Educational Conference of over 150 sessions focusing on best-in-class solutions for manufacturing and supply chain operations. MODEX 2020 exhibits will represent all segments of the material handling, logistics and transportation industry, from traditional, manual equipment to automated/robotics systems and digital supply chain technologies.
The MODEX Conference will include four keynotes and new theaters on the Internet of Things, emerging technology and transportation and logistics solutions. Conference sessions will cover leading trends, best practices and state-of-the-art equipment and technology solutions that can make manufacturing and the entire supply chain work more efficiently and profitably.
"MHI has expanded the educational and networking offerings at MODEX 2020 to provide attendees with the best possible show experience and to connect them with the information and tools they need to tackle the challenges of today's business environment," said George Prest, CEO of MHI. "MODEX brings the industry together to showcase the latest solutions for future manufacturing and supply chain challenges."
March 9 Keynote: A Conversation with Ambassador Nikki Haley
Nikki Haley, U.S. Ambassador to the United Nations (2017-2019)
March 10 Keynote: The Neurogeneration – The Future is Closer Than You Think
Tan Le, Founder and CEO of EMOTIV
March 11 Keynote Panel: Preview of MHI 2020 Annual Industry Report - Embracing the Digital Mindset: Connecting Data, Talent and Technology in Digital Supply Chains
George W. Prest, CEO, MHI and Thomas Boykin, Supply Chain Specialist Leader, Deloitte Consulting LLP
March 11 Keynote: A Conversation with Peyton and Archie Manning
Peyton Manning, Super Bowl-Winning Quarterback & NFL MVP and Archie Manning, All-American Quarterback and NFL Icon
March 11: MHI Industry Night with Hasan Minhaj
MODEX will feature an evening of music, food, drinks and entertainment by comedian Hasan Minhaj on Wednesday, March 11. Tickets to this event are $50 and include beer, wine and hors d'oeuvres. The door prize for this event will be a trip of a lifetime vacation. Trip Value: $30,000. See official rules.
Women in the Supply Chain Industry Forum on March 9 at MODEX
MHI has partnered with Material Handling Equipment Distributors Association to bring an afternoon of discussion, education and networking for women in our industry.
MHI Young Professionals Network Reception on March 9 at MODEX
MODEX is the largest manufacturing and supply chain expo held in North America and South America. The event will be held March 9-12, 2020 at Atlanta's Georgia World Congress Center.
Attendee registration for MODEX is offered at no cost. For more information on exhibiting or attending MODEX, visit MODEXShow.com.
MODEX is Powered by MHI
MHI is an international trade association that has represented the material handling, logistics and supply chain industry since 1945. MHI members include material handling and logistics equipment and systems manufacturers, integrators, consultants, publishers and third-party logistics providers. MHI offers education, networking and solution sourcing for their members, their customers and the industry as a whole through programming and events. The association sponsors the ProMat and MODEX expos to showcase the products and services of its member companies and to educate manufacturing and supply chain professionals.
Comments (0)
This post does not have any comments. Be the first to leave a comment below.
---
Post A Comment
You must be logged in before you can post a comment. Login now.
Featured Product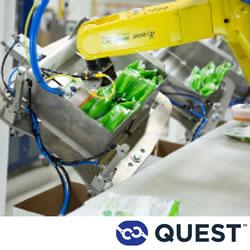 Quest is a leading manufacturer of industrial automation equipment focusing on robotics and vision-guidance. With expertise in the food, beverage, and dairy, Quest optimizes floor space for customers experiencing growing demand and helps improve their overall production line flexibility and efficiency. Quest offers application-specific software on their robotic products, including pick and place, case packing, and palletizing systems to simplify system setup and streamline configurability. Quest is a product brand of ProMach, a global leader in packaging line solutions.