How do Exoskeletons Impact the Workplace?
Since 1965, when the first exoskeleton was produced for military use, exoskeletons have been increasingly popular in the manufacturing world, supporting workers and improving the quality of their working hours.
In 2018 more than 7,000 units were sold in manufacturing (ABI Research data), but the potential market need would be 60,000 units for all types of exoskeleton, with an estimated growth rate of more than 50% from 2019 to 2024. A trend that, taking into account the increasing average age of population in industrialized countries, could grow again.
Although some of the work in factories is automated, human input is still crucial and remains at the heart of many operations, including value-added and repetitive ones, but which require a high level of precision: for example, a worker lifts his arm 4,600 times a day, almost a million times a year to perform some tasks.
For example, in wearable robotic technologies that support workers in their jobs, the MATE passive technology exoskeleton, which does not require batteries or motors, provides postural support that follows the movements of the arms without resistance or misalignment. This generates a 30% reduction in stress on the main shoulder muscles. Designed by Comau in collaboration with workers in order to meet their needs, the exoskeleton can support them in many sectors, including construction, domestic appliances, agriculture, services and automotive. The benefits for the worker, such as improved workplace comfort, reduced muscle fatigue and, consequently, improved quality of work, are combined with indirect benefits for the whole of society, starting with the welfare of the workforce by companies.
Comments (0)
This post does not have any comments. Be the first to leave a comment below.
---
Post A Comment
You must be logged in before you can post a comment. Login now.
Featured Product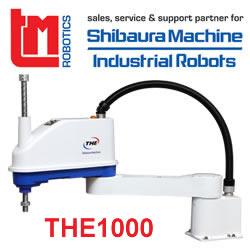 Designed for assembly and inspection applications in the electronics equipment and automobile components industries, the THE600 SCARA is a powerful automation tool. Advancing from the specifications of the existing THE400 SCARA, the THE600 has been developed to meet growing demand for fast-cycle automation. The THE600 model includes improvements in synchronised control and tracking precision. The THE600 is compact in design and offers improved high speed, with 60 per cent higher payload capacity than competing SCARA models in the same price range, making it the price-to-performance leader. Affordable price, impressive performance.