The Increased Role of Robots Post Pandemic
As the novel coronavirus reshapes the economy, it's also having a significant impact on how we work. The crisis seems to be accelerating a number of work trends that existed before the pandemic. We're shopping online more often, working from home more than ever and also adopting new tech.
As contact becomes more dangerous, and people pivot to working from home, robots have emerged as a powerful tool for businesses and organizations wanting to keep everyone safe.
Here is how COVID-19 has pushed robots into the spotlight and the likely impact they will have, even after the pandemic ends.
COVID-19 Has Already Changed How We Use Robots
As the pandemic makes it more dangerous to come into work, robots have quickly become essential. This situation is allowing automation to further creep into labor that has previously been dominated by human workers.
Major hospitals have deployed specialized robot nurses with remote patient monitoring tech so that doctors can keep an eye on people from afar. Other hospitals, along with grocery stores, restaurants and major retailers, have adopted robot cleaners that use UV-based tools to destroy bacteria and viruses. Robot-powered delivery services — which use self-driving cars and drones to deliver groceries and medicine — have also seen major upticks in requests. Some business owners have even reported a positive change in perception around these autonomous tools.
Even as demand has dipped and instability in the labor market has prompted many businesses to reconsider growth or major spending, the robotics industry is doing quite well. While investment has slowed since the beginning of the crisis, major robotics companies continue to announce investor hauls in the tens of millions of dollars and forecast strong growth.
Social distancing measures are likely to stay in place for the rest of 2020, and experts believe they could easily extend through 2021. For companies that want to prevent the transmission of COVID-19 among staff and keep operations moving, robots will probably remain a reasonable investment.
The Role of Robotics Post-COVID
As with changing consumer habits — which economists believe may become permanent, even after the current crisis ends — the present situation could spur significant robot adoption down the line. Many companies that previously hadn't considered using robots at all are now using them in regular operations. In the future, the success of these pilot programs is likely to have a big impact on tech investments and could steer organizations towards increased use of robotics.
Despite the growing popularity of robots, however, human workers will likely remain essential to businesses. Even with the growth of automation platforms and the adoption of new computer technology, like artificial intelligence, most experts see collaborative robotics (cobots) as the future of the field. This consideration is true in all industries, including tech- and robot-heavy sectors — like manufacturing — where leaders have dropped the idea of sites run entirely by robots in favor of collaborative tools.
These new robots probably won't replace sanitation workers — instead, they're more likely to function as an aid and work alongside those employees. The same goes for the new robot nurses and warehouse tools that businesses around the globe have adopted. Human workers will remain essential, and human safety training will remain key at companies that want safety to be a top priority.
However, while robotics designers aren't building robots to replace workers, the efficiency that robots create could lower labor demand in aggregate. Over time, businesses that adopt robots may cut back on staff, even if they hold jobs that are difficult or impossible to automate — like those in healthcare, sanitation and retail.
Some economists are hopeful that the growth these robots produce will lead to the creation of new jobs, like robot technicians, that make up for the lost positions. There are still fears that automation would mostly destroy jobs, however — especially manual labor roles, which often involve many easy-to-automate, repetitive tasks. The job gains that the adoption of new robotics tech produce would need to be significant to make up the difference.
Robots Have a Bright Future in World Post-COVID
The current crisis is accelerating numerous tech trends. As people continue working from home and shopping online, many companies adopt robots for the first time. So far, the tech has been good news for essential workers, who are under immense pressure due to the virus.
In the long-term, the adoption of robotics is likely to continue. Companies with positive first-hand experience will be more willing to adopt robotics at larger scales. These circumstances could, however, have a negative impact on the workers these robots help. The increased efficiency that these robots offer may encourage companies to reduce labor spending and cut jobs that have traditionally been difficult or impossible to automate.
Comments (0)
This post does not have any comments. Be the first to leave a comment below.
---
Post A Comment
You must be logged in before you can post a comment. Login now.
Featured Product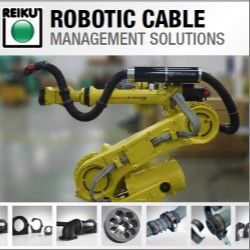 REIKU's Cable Saver™ Solution eliminates downtime, loss of revenue, expensive cable and hose replacement costs, maintenance labor costs. It's available in three sizes 36, 52 and 70 mm. All of the robots cables and hoses are protected when routed through the Cable Saver™ corrugated tubing.The Cable Saver™ uses a spring retraction system housed inside the Energy Tube™ to keep this service loop out of harms way in safe location at the rear of the Robot when not required. The Cable Saver™ is a COMPLETE solution for any make or model of robot. It installs quickly-on either side of the robot and has been tested to resist over 15 million repetitive cycles. REIKU is committed to providing the most modular, effective options for ensuring your robotic components operate without downtime due to cable management. www.CableSaver.com