Robot Sensor Market is set to surpass USD 4 billion by 2026
According to a recent study from market research firm Global Market Insights, Robotics and automation have emerged over the past few years to become an indispensable part of modern-day manufacturing. A vast majority of manufacturers are integrating robotic systems in production facilities to enhance production capacity, boost profit margins, and cut operational costs. These trends have created a substantial demand for robotic components, including robot sensors like 3D vision, force-torque, and tactile sensors.
It is estimated that global robot sensor market will be worth more than US$4 billion by 2026. The integration of AI and IoT is expected to expand the application scope of these sensors significantly, particularly across production activities. The recent coronavirus pandemic has resulted in sustained lockdown and trade restriction across man countries, which has negatively impacted supply and demand patterns of robot sensors.
However, the proliferation of smart factories in emerging economies is likely to generate lucrative opportunities for industrial robots. Nearly 4 million industrial robots are estimated to be deployed by 2022, according to the World Robotics Report 2019.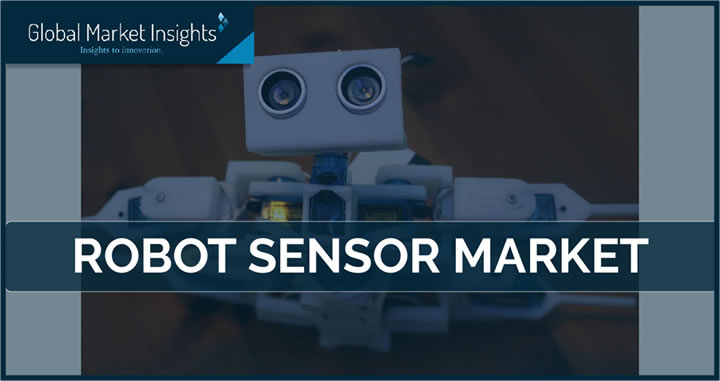 In terms of product, the Robot Sensor Market is divided into force/torque, tactile, ultrasonic, laser range, vision and proximity sensors. The research estimates that the ultrasonic segment may grow at 11% CAGR during the forecast timeframe give to these sensor's economical cost compared to laser range sensors and its capability to integrate into smart factory robots for sensing and pre-sensing purposes.
Developments in ultrasonic technology has also enable several companies to launch new sensors. In 2019, Toposens introduced the 3D ultrasonic sensor, which is applicable in indoor robotic practices such as collision avoidance and object detection.
In terms of the applications, the demand for Robot Sensor Market across domestic sector will grow at 10% CAGR through 2026. The past few years have witnessed a notable adoption of personal and domestic service robots, including vacuuming and cleaning robots, educational robots, toy robots, and assistance and elderly care robots.
Currently, manufacturers are focusing on integration of advanced features, such as machine learning, natural language processing, and voice recognition into domestic robots, which is likely to augment the demand for advanced robotic sensors.
Service robots are experiencing tremendous innovations in terms of design and architecture. These robots rely on numerous sensors to help the perform tasks efficiently in a domestic environment. Service robots captured over 30% revenue share of robot sensor market in 2019 and the segment is expected to witness a 10% CAGR through 2026.
Ultrasonic sensors are prominently used in domestic service robots to provide close range detection and 3D measurement and help them perform household tasks accurately. Ultrasonic sensors accounted for more than 10% market share in 2019 and their demand is likely to grow at a CAGR of 11% through 2026.
Considering the regional outlook, Europe robot sensor market share is poised to witness a CAGR of over 8% through 2026. The regional growth can be largely attributed to growing digitalization in Germany. Europe manufactures over 90% of agricultural robots. Regional companies are investing in advanced technologies to enhance competitiveness against Chinese companies.
Meanwhile in the Asia Pacific region, the consumer electronics segment is experiencing a major shift in manufacturing units from China to India. Easy availability of labor as well as raw materials suppliers in India will favor the regional outlook.
Key Companies covered in Robot Sensor Market are ams AG, ATI Industrial Automation, Balluff GmbH, Baumer, CAPTRON Electronic GmbH, Carlo Gavazzi, Cognex Corporation, DAIHEN Corporation, Datalogic S.p.A, Fanuc Corporation , FUTEK Advanced Sensor Technology, Inc, Hans Turck GmbH & Co. KG, Honeywell International, Inc, ifm electronic GmbH, Infineon Technologies, iniLabs Ltd, KEYENCE CORPORATION, MaxBotix Inc, Omron Corporation, OnRobot A/S, Roboception GmbH, Robotiq, Rockwell, Automation, Inc, Schneider Electric SA, Seiko Epson Corporation, SensoPart Industriesensorik GmbH, SICK AG, Velodyne LiDAR.
Source: https://www.gminsights.com/industry-analysis/robot-sensor-market
Comments (0)
This post does not have any comments. Be the first to leave a comment below.
---
Post A Comment
You must be logged in before you can post a comment. Login now.
Featured Product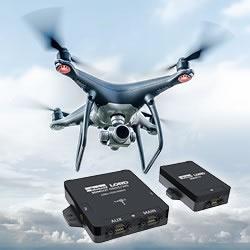 The new complete inertial navigation solution comes with GNSS/INS 3DMGQ7 sensor, 3DMRTK correction modem and real time SensorCloud RTK correction network. The sensor comes with Dual antenna GNSS, tactical grade IMU with centimeter-level accuracy with RTK. Low profile and light weight at 78 grams, this sensor is The sensor is optimized for size and weight in Unmanned Ground Vehicles, mobile robots and autonomous vehicles. The network interface 3DMRTK modem is seamlessly integrated into the 3DMGQ7 sensor supports industry-standard NMEA and RTCM 3.1 protocols. The network RTK support comes with cellular data plan. The SensorCloud RTK is a cloud-based RTK correction system with private encrypted data stream. Check out our G Series and C Series OEM products.