How-To Guide on Mastering PACK EXPO Connects
Herndon, Va.; Oct. 23, 2020 – In two weeks, PACK EXPO Connects (Nov. 9-13), produced by PMMI Media Group, debuts this year's most comprehensive virtual packaging event, and as with all things new, proper planning is critical. Live chats, live product demos and engaging educational opportunities will provide attendees a direct connection with top suppliers to get real time answers and solutions to their packaging and processing challenges.
"The PACK EXPO Connects site, search and planning tools are all designed to help registrants easily identify opportunities that are relevant for their company," comments Sue DaMario, Director of Marketing, PMMI Media Group. "Planning ahead will ensure a rewarding online experience."
With so many activities and over 2,600 scheduled demos taking place at PACK EXPO Connects, the Attendee Resource Center is a great tool to help get organized ahead of the event with helpful tools such as video tutorials on how to search and add live demos, how to use live chat and more. In the meantime, below are some helpful tips on how to make the most out of PACK EXPO Connects:
1. Build a MyConnects Planner
Click the "Register Now" option at packexpoconnects.com for complimentary registration. Once registered, attendees can search a multitude of ways including keyword, product category, new products and more in order to start building their MyConnects Planner. Any item or event of interest can be easily added to a MyConnects Planner by clicking the plus sign (+) next to it.
2. Add Sessions and Live Demos to Your Personal Calendar
After attendees add educational sessions or live demos to their MyConnects Planner, they can easily export their schedule to their own personal calendar to ensure these important scheduled events won't be missed.
3. Plan Ahead for Live Chats
Attendees can plan ahead and add companies they want to chat with to their MyConnects Planner, then during the chat hours can immediately strike up a conversation. To connect outside of show hours, attendees can click the envelope icon under the exhibitor's contact information to send a message.
Designated chat hours at PACK EXPO Connects are 10 a.m.-3 p.m. CST Monday, Nov. 9-Thursday, Nov. 12, and 10 a.m.-1 p.m. CST Friday, Nov. 13.
"Research shows that engaging with product engineers and technical folks is a top priority among equipment and material buyers. We're excited about the ability for registered attendees to make direct, live connections with technical experts who are staffing showrooms. It couldn't be easier," comments Dave Newcorn, Senior VP, Digital and Data, PMMI Media Group.
Preview Week (Nov. 2-6), the week before PACK EXPO Connects is a great opportunity for attendees to finalize their plan. The week will kick-off with a PMMI webinar, Helpful Hints for Navigating PACK EXPO Connects at 10 a.m. CST on Nov. 2 – registration is now open. In addition, during preview week, attendees can attend the introductory webinar, browse and finalize their MyConnects Planner, add product demos, educational sessions and all items of interest.
For more information and free registration, visit packexpoconnects.com.
PMMI, The Association for Packaging and Processing Technologies, represents more than 900 North American manufacturers and suppliers of equipment, components and materials as well as providers of related equipment and services to the packaging and processing industry. We work to advance a variety of industries by connecting consumer goods companies with manufacturing solutions through the world-class PACK EXPO portfolio of trade shows, leading trade media and a wide range of resources to empower our members. The PACK EXPO trade shows unite the world of packaging and processing to advance the industries they serve: PACK EXPO International, PACK EXPO Las Vegas, Healthcare Packaging EXPO, PACK EXPO East, EXPO PACK México and EXPO PACK Guadalajara. PMMI Media Group connects manufacturers to the latest solutions, trends and innovations in packaging and processing year-round through brands including Packaging World, Automation World, Healthcare Packaging, Contract Packaging, ProFood World, Mundo PMMI and OEM. In 2020, PMMI Media Group will produce PACK EXPO Connects, a digital event connecting CPGs and top packaging suppliers. PMMI Business Drivers assist members in pursuing operational excellence through workforce development initiatives, deliver actionable business intelligence on economic, market and industry trends to support members' growth strategies and actively connect the supply chain throughout the year.
Learn more at pmmi.org and packexpo.com and pmmimediagroup.com.
Comments (0)
This post does not have any comments. Be the first to leave a comment below.
---
Post A Comment
You must be logged in before you can post a comment. Login now.
Featured Product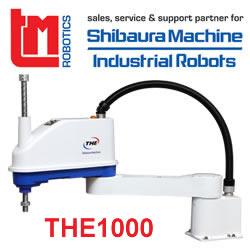 Designed for assembly and inspection applications in the electronics equipment and automobile components industries, the THE600 SCARA is a powerful automation tool. Advancing from the specifications of the existing THE400 SCARA, the THE600 has been developed to meet growing demand for fast-cycle automation. The THE600 model includes improvements in synchronised control and tracking precision. The THE600 is compact in design and offers improved high speed, with 60 per cent higher payload capacity than competing SCARA models in the same price range, making it the price-to-performance leader. Affordable price, impressive performance.