Karakuri unveils its first robotic canteen set to change the global food and hospitality industry
Karakuri, the world leading food robotics company, is bringing the future of food to life as it lifts the lid to unveil the world's first automated canteen to make meals, the DK-One.
Karakuri's robotic system will revolutionise how and what we eat in restaurants, canteens, buffets, hotels and supermarkets as demand for personalised nutrition grows and the industry's looks for new ways to operate in a post-Covid world.
Today the company is showcasing a pre-production version of their DK-One robot, the next exciting stage in Karakuri's journey to creating an entirely new category of made-to-order healthy convenience food. In order to accelerate the company's growth, Karakuri has also closed a £6.3million investment, led by firstminute capital and which includes funding from Hoxton Ventures, Taylor Brothers, Ocado Group and the Future Fund, which was developed by the UK government and is being delivered by the British Business Bank. This investment will be used to further accelerate the development of Karakuri's technologies and create new products beyond the DK-One.
Today's announcement shows Karakuri's first pre-production machine which uses the latest innovation in robotics, sensing and control technologies to offer freshly prepared, high quality hot and cold meals, which maximise nutritional benefits, restaurant performance and minimise food waste.
The pre-production version of the DK-One is being demonstrated and evaluated by customers in Karakuri's facility in Hammersmith, London.
Post-COVID restrictions, further on-customer-site trials of the DK-One are expected to take place in the first half of 2021.
Key features of this version of the DK-One include:
Consumer flexibility and choice – The DK-One produces personalised hot and cold meals with complete accuracy of portion size, giving total traceability of ingredients, nutrients, calories and quantity of every meal.
Food waste reduction – It reduces food waste through the provision of accurate portions and real-time data on ingredient usage.
Improved Restaurant Performance – Optimising scarce human resources which improves thin margins for restaurateurs and provides a better working environment for employees.
Safe. Hygienic. Automated – The DK-One minimises human-to-human contact during meal preparation and strictly adheres to food and safety standards for hygiene and allergen separation. The DK-One is equipped with real-time monitoring of ingredient temperatures, stocking dates and refill times.
Easy to Operate – The DK-One has not only been developed to provide infinitely repeatable quality and delivery of meals but also is focused on making sure the machine's cleanliness can be maintained all day, every day using equipment readily available in existing commercial kitchens.
Barney Wragg, CEO and co-founder of Karakuri, said, "This is one of the most highly-anticipated stages of our business and a really important step. We've spent time talking to our customers and industry specialists, and seen huge enthusiasm for DK-One's potential. Now up and running, this will be the first time we can use a pre-production machine to demonstrate the DK-One's commercial and nutritional benefits in the real world and thus demonstrate our vision for the future of food. I am proud of our amazing team for the work they've done to get this far this quickly, despite the challenges of the pandemic. We are all really excited to begin fulfilling our customer's expectations."
Professor David Lane, CBE, Director of the Edinburgh Centre for Robotics and Co-Chair of the UK Government Robotics Growth Partnership, added, "Even before the pandemic, it was clear there were many opportunities to increase sustainability, resilience and productivity in the catering industry, and to better address changing consumer tastes and lifestyles while reducing the huge amount of wastage. The pandemic has thrown up further challenges of distancing and remote working that can now readily be addressed through robotic innovation. This is why there has been a huge interest in the developments Barney and his team are innovating at Karakuri and it's a pleasure to be supporting them in the next stage of the business"
The DK-One is the world's first robotic solution for high throughput, fast turnaround, completely personalised, portion-controlled, volume catering. Customers are able to customise and place their order from their phone or an in-store tablet. The robot will individually prepare each meal, selecting from 18 hot or cold ingredients with precise accuracy. The DK-One prepares multiple orders at the same time, ensuring it meets the demand of the busiest restaurants.
Karakuri is a UK robotics startup established in February 2018. It emerged from the Founders Factory venture studio with the goal of utilising groundbreaking intelligent robotics, to transform and improve ready to eat catering and, at the same time, reduce the associated food wastage. Karakuri was founded by Barney Wragg, Simon Watt and Brent Hoberman and has closed £13.5m funding including investments from Ocado, Hoxton Ventures, firstminute capital, Taylor Brothers and the Future Fund.
Comments (0)
This post does not have any comments. Be the first to leave a comment below.
---
Post A Comment
You must be logged in before you can post a comment. Login now.
Featured Product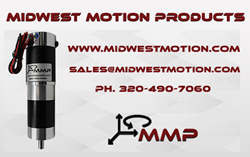 MMP specializes in supplying high-quality Brushed & Brushless DC Motors & Gearmotors for Robotics and Automation Equipment with a wide range of motor windings and gear ratios. With an impressive track record of more than 8,000 released DC Gearmotors designs and over 2,000,000 individual part numbers, we are renowned for our ability to handle large-scale orders. Due to our huge on-hand inventory, we are also well known for lightning-fast delivery of our standard products. We take pride in our dedicated customer service and our team of knowledgeable sales and engineering experts who are ready to assist you with custom design solutions tailored to your specific application. Additionally, we also offer a wide range of complimentary products, such as DC Motor Controls, DC Linear Actuators, AC-DC power Supplies, and DC Servo Amplifiers and others.