FANUC America Launches New CRX Cobot E-Learning Website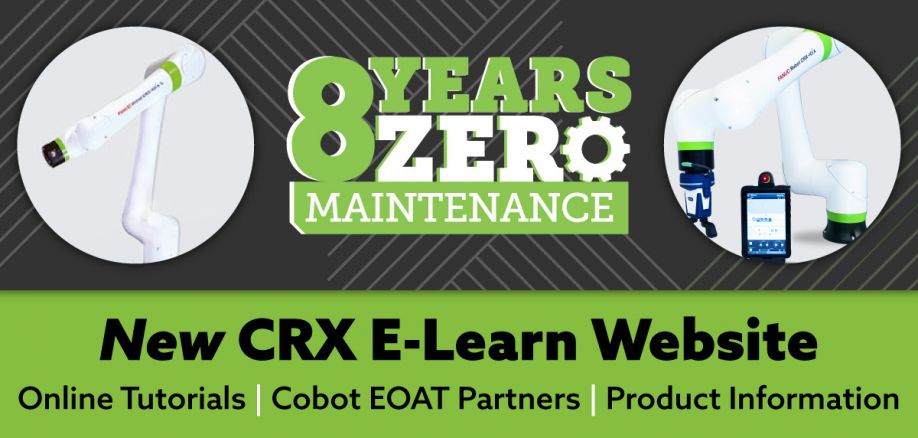 FANUC America, the leading supplier of CNCs, robotics, and ROBOMACHINEs, today announced the launch of a new e-learning website to educate manufacturers and industry about its CRX collaborative robot. The site provides online training tutorials, a deep dive into a wide range of peripheral device and tooling partners, and the latest product information about its CRX cobot lineup.
CRX PRODUCT FEATURES
FANUC's new CRX collaborative robots are easy to use and program, safe, flexible, and quick to get up and running for a variety of manufacturing and industrial applications. The CRX is available in two models, both with 10kg payloads, including the CRX-10iA and CRX-10iA/L long-reach version. A new tablet teach pendant with icon-based drag-and-drop control enables anyone to program the robot – no programming knowledge is required. The new CRX series offers customers eight years of maintenance-free operation, and the same industrial reliability that FANUC is known for all over the world.
A lightweight and sleek construction makes it easy to mount the CRX on a mobile platform, allowing operators to glide the cobot to different work areas. A new simplified gripper connection makes it straightforward to change end-of-arm-tools for new tasks. Also, an IP67 rating means the CRX can work in harsh environments.
"When it comes to cobots, the CRX is an exceptional choice for companies – even for first time robot users," said Eric Potter, director of FANUC's general industry and automotive engineering segments. "Like all of FANUC's robots, the CRX offers our proven industrial quality and reliability. In addition, this robot can operate for eight years maintenance-free – truly a game changer for companies looking to lower costs and increase productivity."
ONLINE TUTORIALS
New CRX e-Learning training modules help customers get their employees quickly up to speed. There are currently three online tutorials that cover a product overview with features, unboxing and setup, and a programming course. Additional learning modules will be offered in the next few months.
Simply register on the site to start the free online CRX training modules and learn how easy it is to setup and use the CRX in a very short timeframe.
EASY INTEGRATION OF PERIPHERAL DEVICES
The new CRX site includes a list of FANUC approved CRX device suppliers for Cobot EOAT devices, grippers, accessories and plugins. The growing list of partners include: ATI, Leoni, OnRobot, Schmalz, Schunk, SMC, Soft Robotics, and Swivellink. Because it's easy to connect third-party devices to the CRX, customers will be able to get up and running right away using the devices that work for their application.
FANUC welcomes industrial robot device suppliers interested in having their products or solutions become part of the FANUC approved devices program for the CRX collaborative robots.
APPLICATIONS
Since its initial introduction, the new CRX cobot continues to take on more applications, including inspection, palletizing, machine tending, vision guided pick and place, sanding and welding. Watch the application videos and learn how the CRX can help customers create more efficient manufacturing.
Need more information? Visit https://crx.fanucamerica.com/ and sign up to receive our newsletter, new training modules, product updates, and other special offers!
About FANUC America Corporation
FANUC America Corporation is a subsidiary of FANUC CORPORATION in Japan, and provides industry-leading CNC systems, robotics and factory automation. FANUC's innovative technologies and proven expertise help manufacturers in the Americas maximize productivity, reliability and profitability.
FANUC embraces a culture of "Service First" which means that customer service is our highest priority. We are committed to supplying our customers with parts and support for the life of their FANUC products.
FANUC America is headquartered at 3900 W. Hamlin Road, Rochester Hills, MI 48309, and has facilities in: Auburn Hills, MI; Atlanta; Boston; Charlotte; Chicago; Cincinnati; Cleveland; Houston; Huntington Beach, CA; Los Angeles; Minneapolis; Montreal; Pine Brook, NJ; Pontiac, MI; Birmingham, AL; San Francisco; Seattle; Toronto; Buenos Aires, Argentina; Sao Paulo, and Manaus, Brazil; and Aguascalientes, Monterrey, and Queretaro, Mexico. For more information, please call: 888-FANUC-US (888-326-8287) or visit our website: www.fanucamerica.com/CRX. Also, connect with us on YouTube, Twitter, Facebook, LinkedIn and Instagram.
Comments (0)
This post does not have any comments. Be the first to leave a comment below.
---
Post A Comment
You must be logged in before you can post a comment. Login now.
Featured Product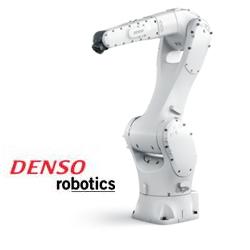 The new VMB series represent some of the newest members to our 6-axis family of robots. These high-performance, versatile units offer a longer arm reach and a higher load capacity than traditional models which make VMB an excellent solution for palletizing, packaging, and material handling. New features include greater air piping, valve and signal line options, as well as new programming options with state-of-the-art functions using our new WINCAPS Plus software. VMB offers an IP67 protection grade along with meeting ISO Class 5, which makes them suitable for electric parts, food manufacturing processes, and pharmaceutical and medical devices. With the addition of the new VMB large robots, all manufacturing processes can now be automated by DENSO Robotics.