New FAA Rules Will Increase Drones in Manufacturing Facilities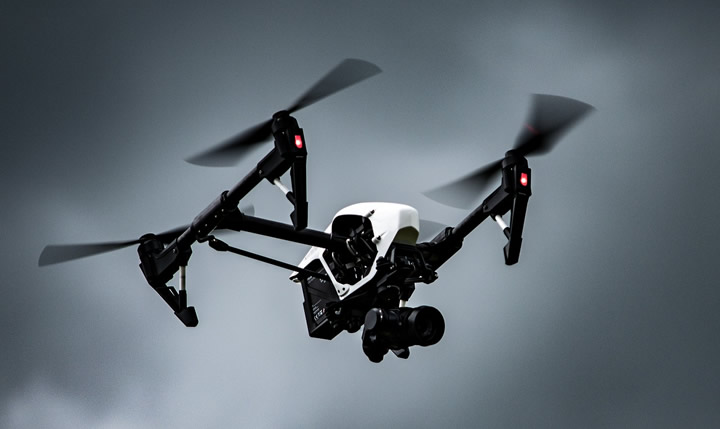 Recent FAA rule changes will shift how drones may operate over people and moving vehicles. These more flexible rules relating to Unmanned Aircraft Systems (UAS) use may lead to significant changes in how drones are used in manufacturing.
The new rule, which allows expanded drone use over people, is based on meeting four rule requirements.
Three rules deal with human safety and limiting drone size. Drones must not "contain any exposed rotating parts that would lacerate human skin on impact with a human being." Physical barriers like covered structures must protect people on the ground. Additionally, on-site notice must inform of drones' presence.
The fourth rule concerns itself with airworthiness certification. The new FAA rule took effect April 21, 2021.
So what does this all mean?
Drone technology has steadily found a manufacturing foothold after the 2014 reversal of a previous six-year-long commercial ban. They entered the sector as asset monitoring devices. Devices performed quick inventory checks, especially in hard-to-reach areas. Others used drones for detecting temperature issues within machinery through thermal imaging. Additionally,manufacturing sites have used drones for external site surveys, taking measurements for Industry 4.0 data input.
With this new rule, drone technology is set to expand further, gaining a foothold inside manufacturing facilities. Such an expansion may soon develop drone deployment to include the following applications.
Moving Inventory
Picking parts can take up an inordinate amount of time, especially in a large production facility. Drones have the potential to collect and deliver parts from a central warehouse, leaving workers more time for production.
Most drones have a limited payload, usually under 11 pounds. The new FAA rules do not prohibit larger payloads up to 55 pounds. However, any payload must follow all rules and regulations regarding possible injury to persons close by. This naturally restricts payloads to lower weights.
Drones should still have capability to move smaller parts. This can also have significant ramifications for packing and preparing parts for shipment.
Pre-programmed flight paths help drones maintain paths where they do not interact with workers. Drones do real-time flight scans to avoid obstacles regardless of this pre-programming.
Improved Safety
Drone technology can help with health and safety compliance, too.
Typically, plant maintenance inspections require work stoppages, especially when they involve high or hard-to-reach areas. But drones can inspect these areas--and the machinery within those areas--while work continues.
Need to scan barcodes for a complete inventory count? Don't risk sending an employee up a high ladder; use a drone instead. Drones can easily capture pallet barcodes with their location data while human workers remain safely grounded.
Additionally, visual inspections and thermal data from drone capture offers you a permanent record to refer back to, if needed. This can be especially useful if a safety inspection problem is noted, to establish a base timeline. For example, a bridge linking I-40 between Arkansas and Tennessee closed in May 2021 when an inspector found a significant crack. While reviewing previous drone footage, the Arkansas DOT noted the crack as far back as 2019. Previous inspectors twice missed the issue.
OSHA Inspections
OSHA is taking advantage of rule changes, too. This is something for manufacturers to understand before an inspector is at their door.
For the moment, OSHA can only use drones with employers' permission on locations deemed too dangerous for regular inspection, like accident sites. But with this rule change, OSHA may soon have authorization from the FAA to deploy drone technology at any time, even without consent. For the time being, consent is needed before deployment.
Drone use will expand the definition of "in plain view" when noting violations. While an inspector may look from outside a fence or other barrier during an inspection, a drone can bypass these from above. This exposes a larger area of your worksite to inspection.
Manufacturers may want to consider the pros and cons of consenting to drone inspection vs. denying an OSHA request. This includes risks to workers and equipment and the possibility of inadvertent trade secret capture. If consent is given, be sure to give input on flight plan development and get copies of all collected data.
Conclusion
A little over a hundred years ago, the assembly line changed how the modern factory worked. It's questionable whether this shift to unmanned automation will deliver quite so much. But there's no doubt UAVs and autonomous mobile robots will continue making further progress onto the factory floor.
Technology writer Marla Keene works for AX Control, Inc, a North Carolina industrial automation parts supplier. She writes about drones, green tech, artificial intelligence, and other technologies changing our world. Her articles have been featured in Power Magazine, Food Industry Executive, and other industry sites. Before working for AX Control, Marla spent twelve years running her own small business.
Comments (0)
This post does not have any comments. Be the first to leave a comment below.
---
Post A Comment
You must be logged in before you can post a comment. Login now.
Featured Product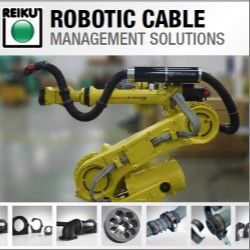 REIKU's Cable Saver™ Solution eliminates downtime, loss of revenue, expensive cable and hose replacement costs, maintenance labor costs. It's available in three sizes 36, 52 and 70 mm. All of the robots cables and hoses are protected when routed through the Cable Saver™ corrugated tubing.The Cable Saver™ uses a spring retraction system housed inside the Energy Tube™ to keep this service loop out of harms way in safe location at the rear of the Robot when not required. The Cable Saver™ is a COMPLETE solution for any make or model of robot. It installs quickly-on either side of the robot and has been tested to resist over 15 million repetitive cycles. REIKU is committed to providing the most modular, effective options for ensuring your robotic components operate without downtime due to cable management. www.CableSaver.com