Turing AI Debuts Mobilized Security Platform: The Turing Robot
Turing AI announced the launch of the mobilized video security platform, the first to combine patrol robots and security camera solutions available on the market. Also the world's most affordable indoor patrolling robot, Turing Robot comes equipped with TOF Lidar, with a range of up to 40m, HD IP cameras, a wide-view laser scanner, and environmental/gas detection scanners (optional).
The autonomous patrolling robot can be operated remotely through mobile apps, and can be monitored from anywhere in the world through Turing's centralized monitoring system.
"Security and flexibility were important to our engineers when creating Turing Robot," said Albert Lin, Senior Vice President at Turing AI.
"With built-in real-time streaming capabilities, operators don't need to be tied to one location to monitor safety and security at their facility. Turing Robot's video feed can be accessed by the Turing Vision platform from anywhere in the world."
Turing Robot can be easily combined with Turing Vision, Turing AI's industry-leading safety and security platform. Powered by a variety of enterprise-grade algorithms, Turing Vision enables clients to search, receive alerts, and analyze patterns of detections across all locations and historical data, including Turing Robot's livestream, with no limitations.
"By connecting Turing Robot to their facility's new or legacy cameras, our clients get a first-person view of every camera linked to Turing Vision. The mobilized security platform of Turing Robot plus Turing Vision enables clients to improve operational efficiencies, increase safety, and get the most out of their camera infrastructure investments," said Ron Rothman, President of Turing AI.
"This means our partners who've already installed Turing Vision, as well as future partners, now have access to our fully-equipped mobilized security platform. This will enhance their end-users security experience through both Turing Vision's cameras, as well as the mobilized cameras on Turing Robot."
Energy-conscious, the Turing Robot is auto-docking and self charging, extending battery life and ensuring 24/7 functionality. Internal tests show that after almost one week of hourly patrols, Turing Robot's battery experienced minimal (>5%) degradation and maintained recharging times. Environmental safety can't be overlooked, and Turing Robot can be equipped with gas detection, as well as the ability to purify and sanitize the air in the event of a noxious occurrence.
"Turing AI was founded on the promise of transforming security using AI technology. With the launch of Turing AI's mobilized video security platform, we've taken a giant step toward delivering on this promise to our dealers and enterprise clients," concluded Mr. Rothman.
Turing AI Mobilized Video Security Platform Features:
24/7 autonomous patrolling and first respondent
First-person view of all cameras in the facility through Turing Vision
Real-time live streaming & recording
People and vehicle detection, powered by AI
Smart alerts for incident prevention
Archive and backup clips to the cloud for future reference
Manage and upgrade your system remotely
About Turing AI
Turing AI's mission is to reimagine safety, security, and operations with AI. At our very core, we develop complex, machine learning models to create interconnected AI-enabled solutions unlike any other in the world.
Comments (0)
This post does not have any comments. Be the first to leave a comment below.
---
Post A Comment
You must be logged in before you can post a comment. Login now.
Featured Product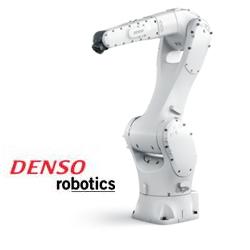 The new VMB series represent some of the newest members to our 6-axis family of robots. These high-performance, versatile units offer a longer arm reach and a higher load capacity than traditional models which make VMB an excellent solution for palletizing, packaging, and material handling. New features include greater air piping, valve and signal line options, as well as new programming options with state-of-the-art functions using our new WINCAPS Plus software. VMB offers an IP67 protection grade along with meeting ISO Class 5, which makes them suitable for electric parts, food manufacturing processes, and pharmaceutical and medical devices. With the addition of the new VMB large robots, all manufacturing processes can now be automated by DENSO Robotics.