Learn How To Protect Your Business with AI for Visual Inspection – Pleora Webinar Live April 6, 2022
Protect Your Business with AI for Visual Inspection

Learn how the best of AI and machine vision can improve quality, lower costs, increase efficiencies, and protect brand integrity for manufacturers and quality managers with camera based visual inspection system.

This webinar will discuss how two manufacturers – a distillery and an electronics assembly operation – are using camera-based visual inspection to protect their brand and make manual processes repeatable, consistent, and traceable. The session will include a live demo highlighting how quickly and easily an image compare AI plug-in is trained and deployed to start spotting product differences and deviations.

About Your Hosts:

Ed Goffin manages marketing for Pleora, and has been widely published on the use of AI for visual inspection for consumer goods, electronics, food & beverage, and packaging applications.

Zaryab Syed is an applications engineer with Pleora, and works closely with customers to help understand their needs and requirements while providing technical training and support.

Can't join the Webinar at that time? Register for the live event, and you'll receive a link to an on-demand session following the live event. Or, if you wish to learn more about Pleora's Visual Inspection System and how to maintain brand quality standards, download the Whitepaper.
Comments (0)
This post does not have any comments. Be the first to leave a comment below.
---
Post A Comment
You must be logged in before you can post a comment. Login now.
Featured Product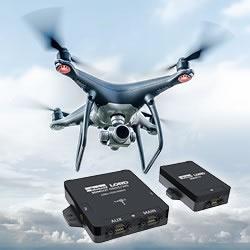 The new complete inertial navigation solution comes with GNSS/INS 3DMGQ7 sensor, 3DMRTK correction modem and real time SensorCloud RTK correction network. The sensor comes with Dual antenna GNSS, tactical grade IMU with centimeter-level accuracy with RTK. Low profile and light weight at 78 grams, this sensor is The sensor is optimized for size and weight in Unmanned Ground Vehicles, mobile robots and autonomous vehicles. The network interface 3DMRTK modem is seamlessly integrated into the 3DMGQ7 sensor supports industry-standard NMEA and RTCM 3.1 protocols. The network RTK support comes with cellular data plan. The SensorCloud RTK is a cloud-based RTK correction system with private encrypted data stream. Check out our G Series and C Series OEM products.